These huggable, adorable plush toys have become a huge hit in the toy market. So soft and cute, children and adults both adore them!
Choose from small keychain versions to large pillows for cuddling and lounging.
Their high-quality materials make them durable, perfect for all sorts of playtime adventures.
What makes Squishmallows even more special is their range of characters.
Unicorns, pandas, turtles, dragons, mermaids - there's a Squishmallow for every interest and personality!
Each one has its own unique backstory and traits, inspiring kids to create imaginative stories during play.
Collectors all over the world also love Squishmallows. Limited-edition releases and seasonal characters make each purchase exciting.
The Squishmallow community is growing rapidly, with fans sharing online and attending meetups and conventions.
The story began in 2017, when Kelly Toy launched the first capsule collection.
Initially targeting young children, teens and adults soon fell in love with them. Success led Kellytoy to expand, introducing more characters, sizes, and accessories.
What are Squishmallows?
To understand what Squishmallows truly are, delve into the world of these cuddly creatures.
Discover Squishmallows and the wide range of sizes and varieties they come in.
Uncover the essence of these lovable plush toys, perfect for both kids and adults alike.
Description of Squishmallows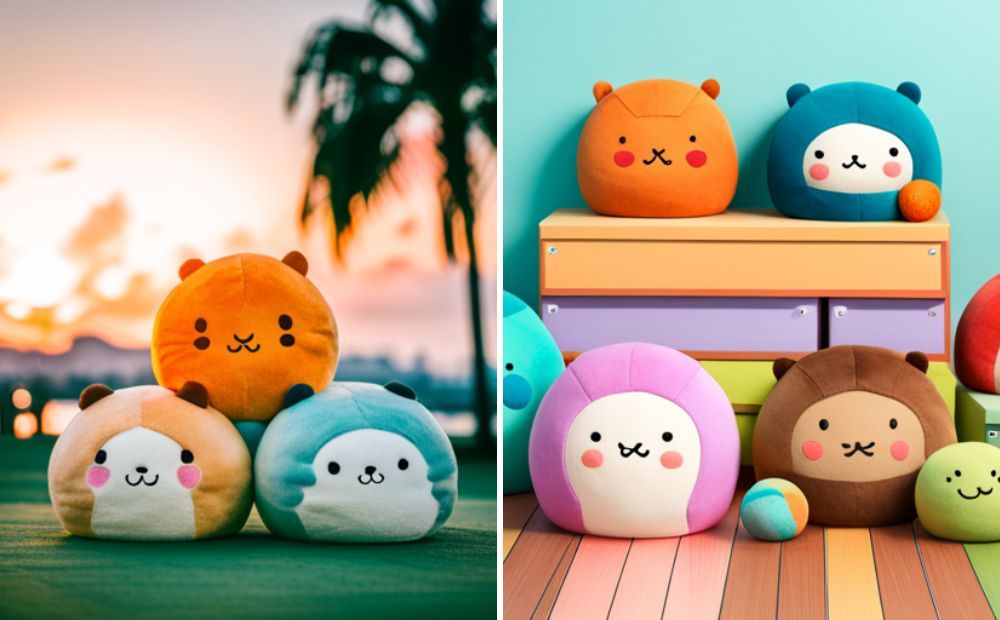 Squishmallows have taken the toy world by storm! They are huggable plush toys loved by kids and adults alike for their softness.
Squishmallows range in sizes: from small keychains to huge pillows! And they're made of super-soft polyester fabric, making them perfect for cuddling.
Each Squishmallow has its own character design, with cute faces and bright colors. And they're filled with a marshmallow-like stuffing material, which gives them their squishy texture which makes them great pillows.
Squishmallows come in animal, mythical creature, and food designs - so the possibilities are endless!
Plus, some of the limited-edition collections are scented or glow-in-the-dark - adding an extra special touch.
Did you know? The idea for Squishmallows came from Kelly Toy, a California-based toy company known for their creative ideas.
Sizes and Varieties of Squishmallows
Squishmallows come in a range of sizes and designs, for all ages. From mini to jumbo, these plush toys are perfect for comfort and joy.
Let's take a look at the sizes:
Mini, Small, Medium, Large, Jumbo.
Each size has its own characters; pandas, unicorns, dinosaurs, avocados, donuts and more!
To get the most out of your stuffed animal experience, here are some tips:
Collect different sizes, add accessories, use them as stress relievers, and gift them to your loved ones.
So, enjoy the squishiness!
How to Choose the Right Squishmallow
To choose the right Squishmallow plush toy for you, consider factors like size, design, and material. This will help ensure you find the perfect one that suits your preferences.
Additionally, we'll provide some useful tips to guide your decision-making process.
Factors to Consider (e.g., size, design, material)
Picking the perfect Squishmallow plush toy involves several factors.
These include size, design & material. Each factor affects which Squishmallow suits you or your loved one best.
Here's a table to help you make an educated decision:
| Factor | Description |
| --- | --- |
| Size | Select from small to large. Consider who it's for & if they prefer a smaller or larger size. |
| Design | Numerous adorable designs, like animals, characters & seasonal themes. Pick one that brings joy to the recipient. |
| Material | Super soft polyester fabric for maximum comfort & durability. |
Apart from these, some Squishmallows come with special features, like glow-in-the-dark elements or scented accents. That adds extra excitement & fun.
Here're tips to narrow down your options:
Look at the recipient's preferences. Choose a design that reflects their interests.
Assess the purpose. If it's a bedtime companion, opt for a bigger size.
Check for collectible editions. Limited editions & rare variations make great choices for collectors.
By considering these factors & suggestions, you'll find the perfect Squishmallow for yourself or a gift.
Think about size, design & material. Also look for any unique details or preferences of the recipient. Enjoy Squishmallow hunting!
Tips for Making a Decision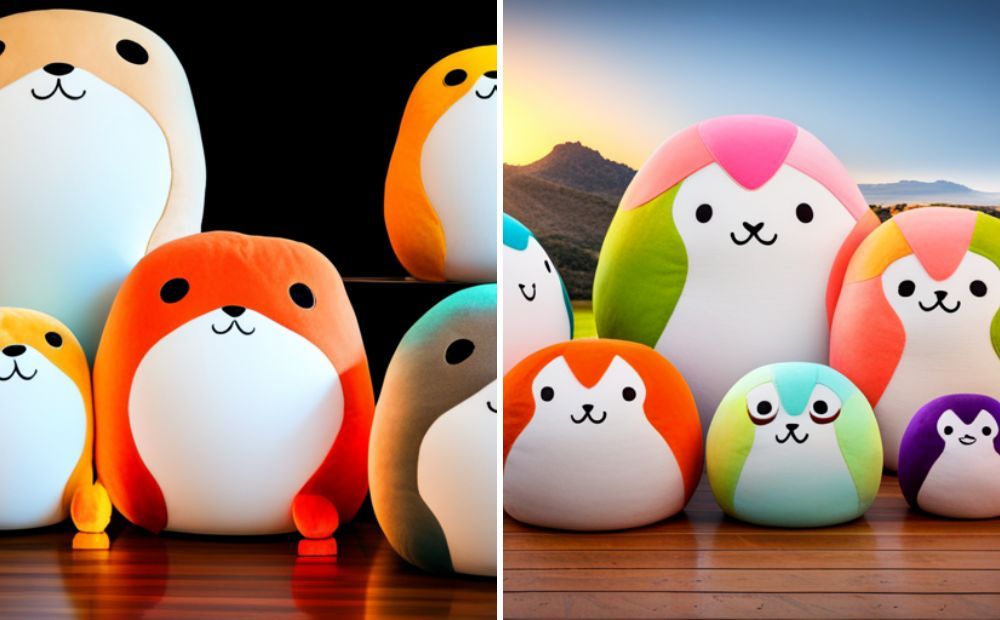 When picking the right Squishmallow plush toy, here are some tips to help!
Look at the size - larger ones are great for cuddles, and smaller ones for collections and displays.
Also think about the design or character. There's lots of options, so you can find one that fits your style or interests.
Lastly, check out any special features or accessories that come with it. These could include sound effects or outfits for extra fun and customizing.
Plus, be aware of the material and how it feels when squeezed or hugged. Some Squishmallows may be limited edition or part of a collection - making them even more desirable for collectors.
Did you know Squishmallows first came out in 2017 from Kelly Toys? They're so popular and fast becoming Gen Z's Beanie Babies because they're soft and oh-so-cute!
Where to Buy Squishmallows
To find the best places to buy Squishmallows, turn to online retailers and physical stores.
Discover the convenience and wide selection offered by online retailers, while also exploring the in-person shopping experiences and immediate access provided by physical stores.
Online Retailers
Tired of looking for Squishmallows? Stop your search. Here are some online stores with these cuddly plush toys! Amazon, Walmart, Target and eBay, to name a few.
These stores offer Squishmallows in many sizes and styles. Whether you need a special character or just want to see the collection, these websites can help.
Did you know Squishmallows came out in 2017? They were known as children's toys but quickly became a hit with grown-ups. The softness and cuteness make them irresistible.
So don't wait any longer. Check out these stores and get your own Squishmallow now!
Physical Stores
If you want to buy Squishmallows in person, here's where you can find them!
Toys "R" Us offers a wide selection.
Target has a dedicated section for stuffed animals.
Walmart has various options.
Barnes & Noble sometimes carries them in-store.
Check out independent toy stores near you.
You might even find them at some grocery stores!
If you prefer to browse before buying, these are great options. Just remember availability may vary. Pro Tip: call ahead or check online to see if a store has the Squishmallow you want.
Care and Maintenance of Squishmallows
To properly care for and maintain your Squishmallows, follow the cleaning instructions and ensure you store them properly.
Cleaning instructions will detail how to keep your Squishmallows fresh and clean, while storing them properly will help maintain their shape and prevent any damage.
Cleaning Instructions
Spot Cleaning: Gently dab any stains or spills with a damp cloth or sponge. No excessive rubbing!
Surface Wash Only: Don't be tempted to throw your Squishmallow in the washing machine - stick with surface cleaning methods. This helps maintain its softness & shape.
Mild Soap Solution: If needed, mix mild soap & lukewarm water and lightly apply the suds onto the soiled areas.
Avoid Hot Water: Always use warm water when cleaning to prevent fading & deformation.
Air Dry Only: After spot cleaning, let your Squishmallow air dry naturally. Keep it away from hairdryers & direct sunlight.
Gentle Brushing: Gently brush matted or tangled fur with a soft-bristle brush to restore fluffiness & smoothness.
Plus, to prevent messes: encourage handwashing before snuggling & avoid eating/drinking near them.
Rotate Squishmallows for equal wear & tear, store them in a dry place away from sunlight, & avoid harsh chemicals.
These guidelines will ensure your Squishmallows stay clean & cuddly!
Storing Squishmallows Properly
Preserve the cuddliness of Squishmallows! Keep them in a clean, dry environment. Avoid direct sunlight and extreme temperatures.
Store them in individual airtight bags or containers. Don't place heavy objects on them. Consider displaying them on shelves. Doing so ensures their longevity and cuddliness for years.
Their irresistibly soft texture and adorable designs make them a beloved collectible item. Nowadays, Squishmallows bring joy and comfort to many people!
Benefits of Owning Squishmallows
To experience the full benefits of owning Squishmallows, dive into the section on the benefits they bring. Discover how Squishmallows provide comfort and stress relief, and explore their collectibility and popularity.
Comfort and Stress Relief
Life can be overwhelming at times. That's why Squishmallows are here to help! Not only are they adorable and playful, but they can also offer many benefits when it comes to stress relief.
Their cuddle-worthy softness is perfect for providing comfort and warmth. Squeezing and squishing them can be a great way to release tension. Plus, they're great listeners who never judge or give unsolicited advice.
Squishmallows can also reduce anxiety symptoms and can be used as a mindfulness tool. With plenty of shapes, sizes, colors, and characters available, you're sure to find one that fits your preferences.
Don't miss out on the unique benefits of owning a Squishmallow! Get yours today and enjoy the soothing comfort it brings. You deserve it!
Collectibility and Popularity
Squishmallows have become immensely popular with people of all ages! Collectors go crazy for them due to their one-of-a-kind designs and limited-edition styles. Demand for Squishmallows is sky-high, making them highly sought-after.
Unique Designs: Squishmallows come in a variety of colorful designs, each one special and attractive to collectors.
Limited Editions: Add rarity and exclusivity to the collection by getting your hands on some of the limited-edition Squishmallows.
Special Themes: Squishmallows often feature fun themes such as holidays, seasons, or collaborations with popular franchises, increasing their collectibility.
Trading Community: Squishmallow fans can find each other and trade or sell their favorite pieces, thanks to the strong trading community that has formed around them.
Social Media Influence: Social media outlets have hugely contributed to the popularity of Squishmallows, generating a lot of excitement among enthusiasts.
Additionally, the manufacturer regularly releases new Squishmallow collections, so collectors can always look forward to fresh and exciting designs.
Rare Squishmallows are often sold at high prices in secondary markets due to their scarcity and desirability.
The Toy Insider's Parent Advisory Board named Squishmallows as Toy of the Year 2020.
Conclusion
Squishmallows have taken the toy world by storm! These cosy, squishy creatures offer comfort and companionship. So, what exactly makes them so popular?
Here are some points to consider:
Designs: Squishmallows come in a variety of characters. They are brightly coloured, with cute features and unique personalities.
Softness: These toys are made of ultra-soft polyester and filled with marshmallow-like stuffing. Their squeezable texture offers unbeatable comfort.
Versatility and Collectibility: Squishmallows can be used as pillows, plush toys, or decorative pieces. With new designs released often, they're perfect for collectors.
Quality: Each Squishmallow is carefully crafted with attention to detail. They are designed to last, while retaining their shape and softness.
Range: Squishmallows range in sizes from tiny keychain mini-toys to large pillows. Everyone can enjoy the joy of squishing!
Here's something you may not know: certain Squishmallows have scented features! There are also limited-edition Squishmallows created to support charitable causes.
If you're yet to experience the charm of Squishmallows, now's your chance! They bring joy and comfort.
Whether you're a child or an adult, Squishmallows will capture your heart. Start your collection today and embrace the delightful world of Squishmallows!
If you are looking to start your collection of Squishmallows, then check out some of our articles on these adorable plush toys: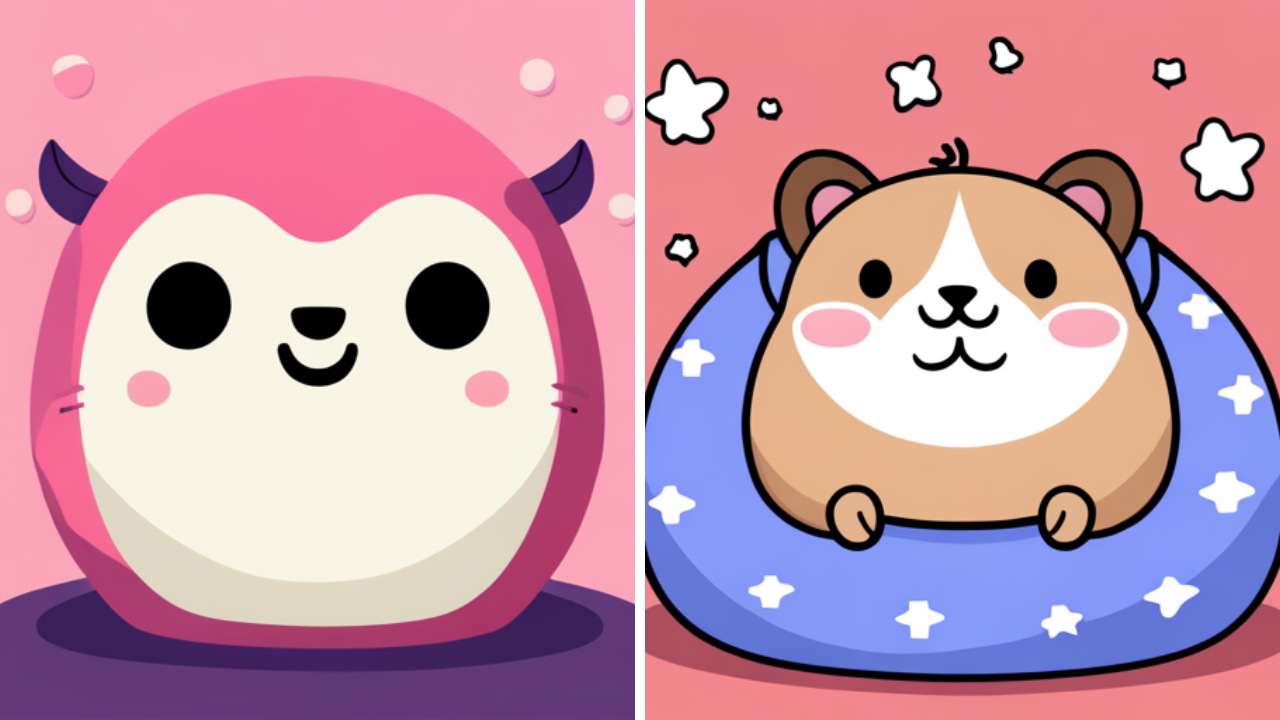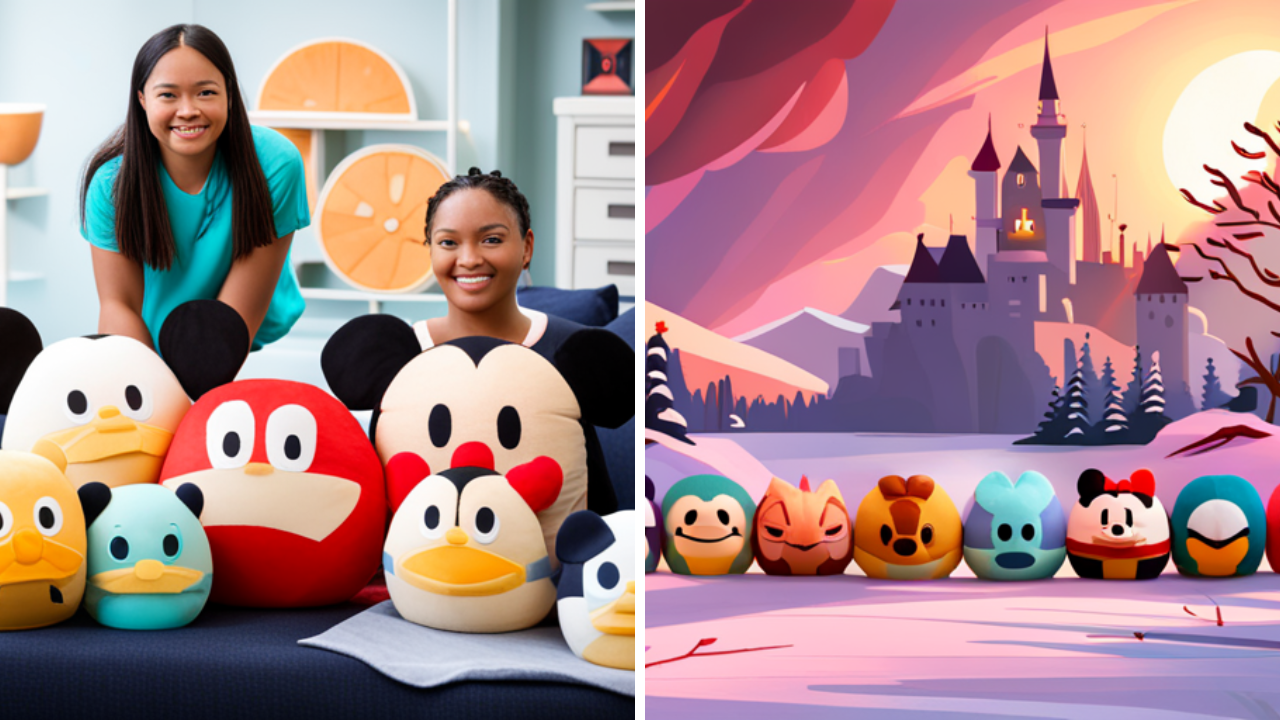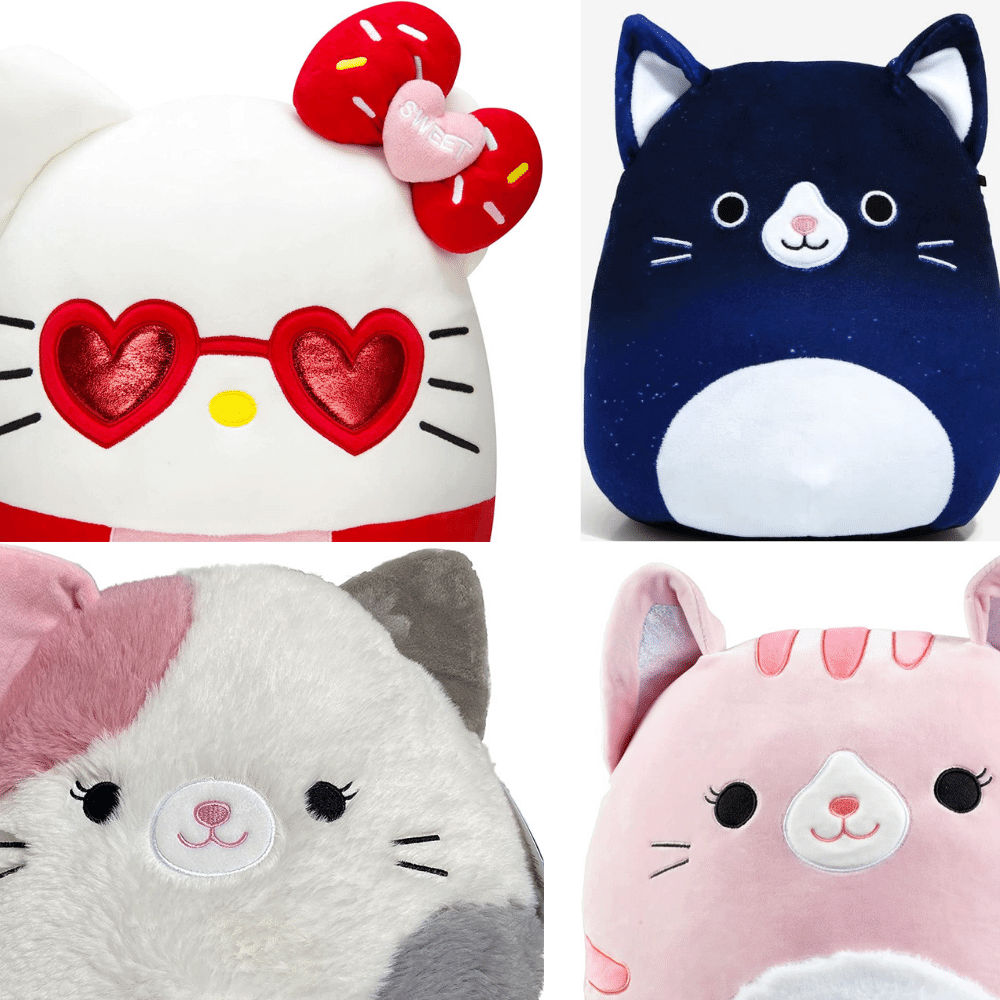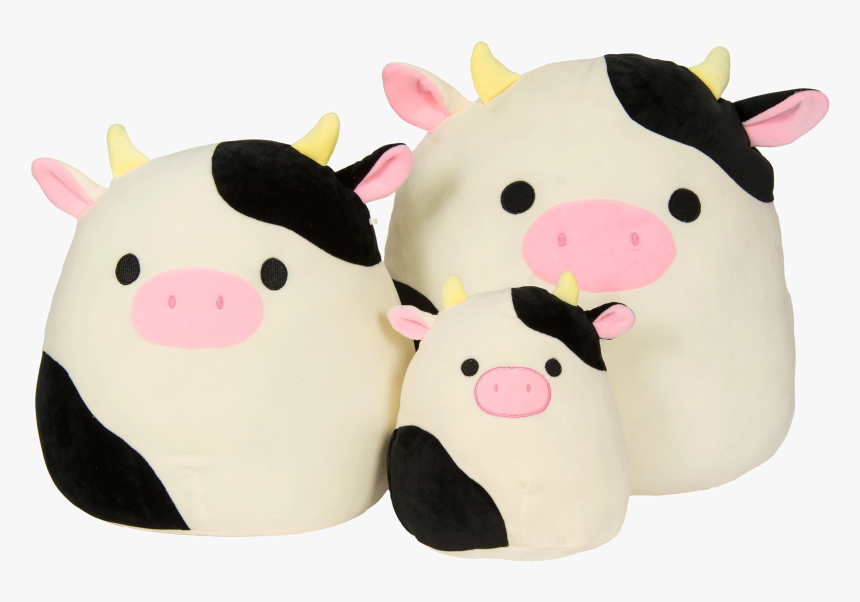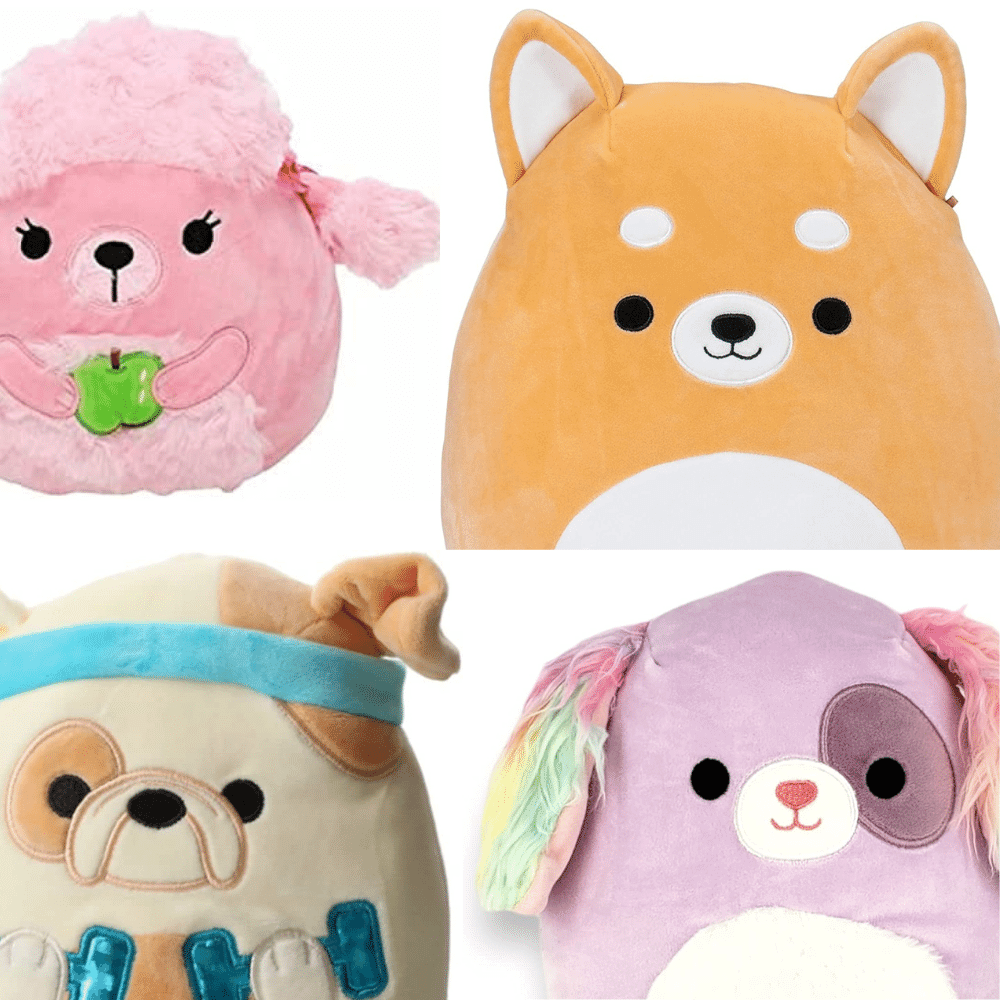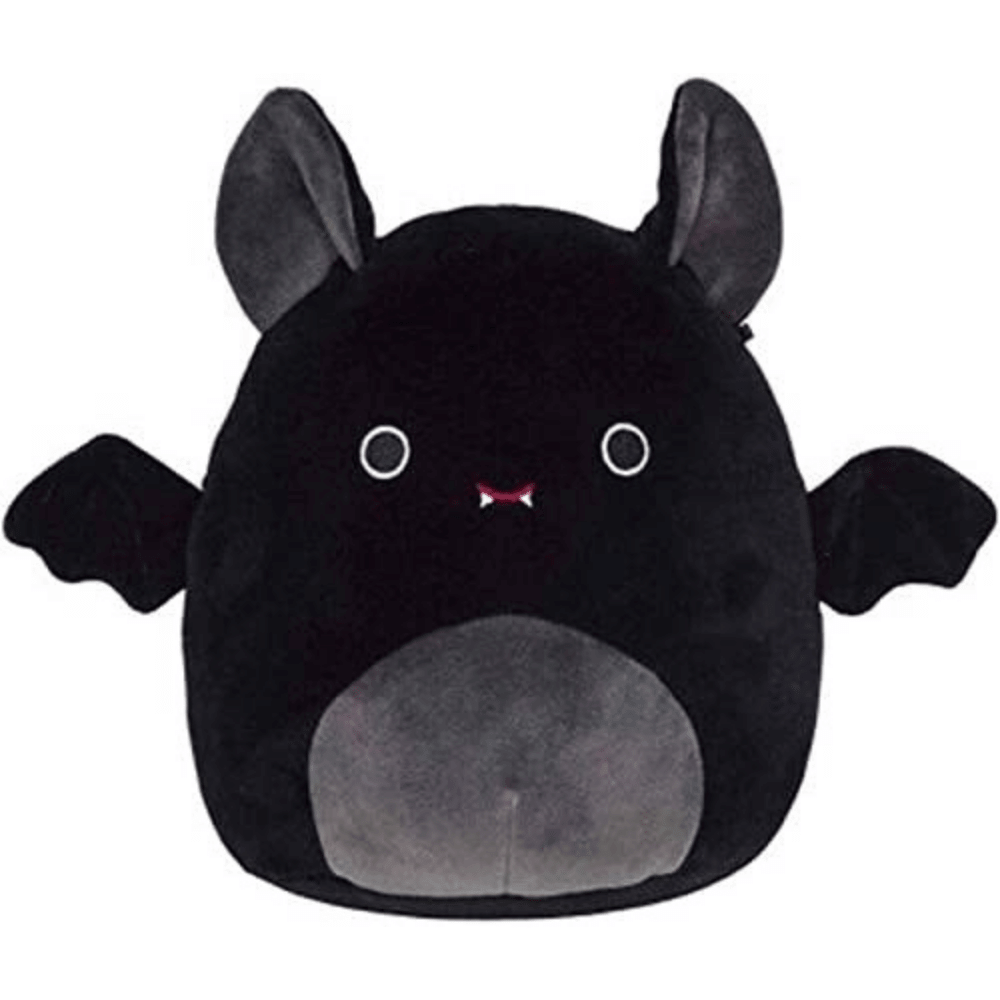 Frequently Asked Questions
Squishmallows are soft plush toys made from super soft marshmallow-like material. They come in various adorable animal characters and are designed to be squishy, huggable, and cuddly.
Are Squishmallows suitable for all ages?
Yes, Squishmallows are suitable for all ages. They are loved by both children and adults alike. However, some smaller versions may have age recommendations for safety reasons. They are also free of harmful chemicals.
Can Squishmallows be washed?
Yes, Squishmallows can be washed. They are machine washable, but it is recommended to use a gentle cycle and air drying to maintain their softness and shape.
Where can I buy Squishmallows?
Squishmallows can be purchased from various retail stores, both online and offline. They are available in toy stores, department stores, and on websites like Amazon and the official Squishmallows website.
Can I collect different Squishmallows characters?
Absolutely! Collecting different popular squishmallows characters is a hobby among fans and all age groups. There are numerous characters to choose from, including animals, like Jack the black cat, mythical creatures, and special editions.
Are there any limited edition Squishmallows?
Yes, there are limited edition Squishmallows that are released periodically. These limited editions often have unique designs or collaborations with other brands or franchises. They can be highly sought after by collectors.