Today, we're diving into the world of pizza waffles. Imagine the delightful combination of crispy waffles infused with the irresistible flavours of pizza.
This unique twist on two beloved classics is sure to tickle your taste buds and satisfy your cravings. In this blog post, we'll explore the origin, ingredients, cooking techniques, and variations of pizza waffles.
We'll also provide step-by-step instructions, tips, and creative topping ideas. So, let's get started!
What are Pizza Waffles?
Pizza waffles are a delightful culinary invention that combines the best of both worlds: pizza and waffles.
Originating from the creative minds of food enthusiasts, pizza waffles offer a convenient and portable way to enjoy the flavours of pizza in a fun and innovative form.
The concept involves using waffle batter as the base, infused with traditional pizza ingredients, and cooked in a waffle iron. Other variations include pizza dough and crescent rolls.
Cooking Techniques
The process of making pizza waffles is relatively simple:
- Preheat your waffle iron according to the manufacturer's instructions.
- Pour the waffle batter or put dough onto the iron and spread it evenly.
- Add your desired favorite pizza toppings and seasonings.
- Close the waffle iron and cook until the waffles are golden brown and crispy.
- Remove the pizza waffles from the iron and let them cool slightly before serving.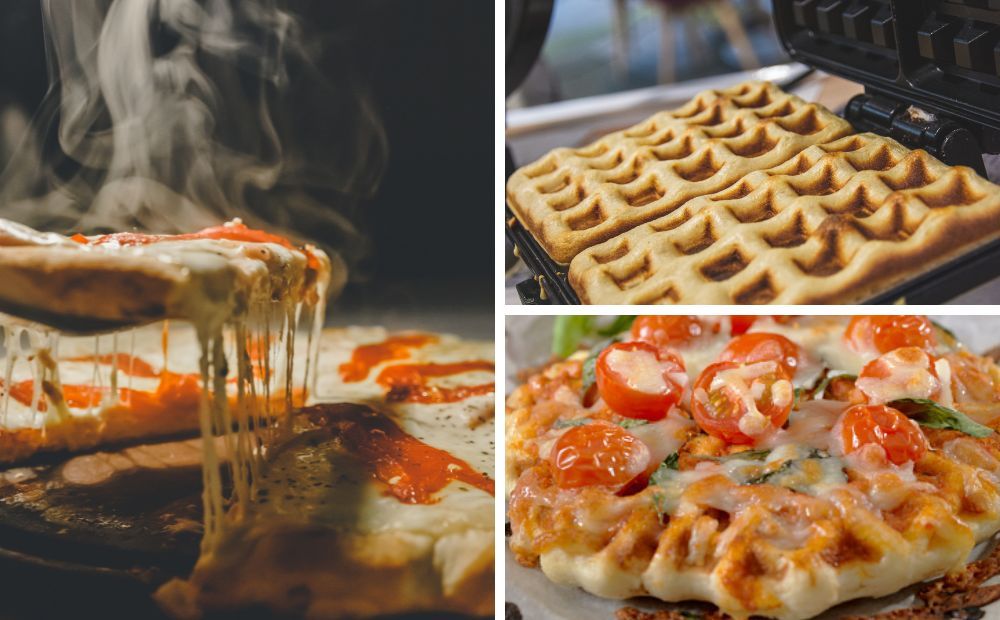 Exploring Variations
Pizza waffles can be customized to suit various dietary preferences and tastes. Here are a few variations to consider:
Vegetarian Options:
For vegetarian pizza waffles, omit the meat toppings and focus on delicious vegetable combinations. Try toppings like cherry tomatoes, spinach, artichokes, feta cheese, and red onions for a delightful vegetarian treat.
Meat Lover's Delight:
For those who enjoy a hearty meaty twist, include toppings like pepperoni, sausage, bacon, or ham in your pizza waffles. This variation is sure to satisfy your carnivorous cravings.
Gluten-Free Options:
To cater to gluten-free diets, substitute regular flour with a gluten-free flour blend or almond flour. Ensure that all toppings and seasonings are also gluten-free.
Classic Pizza Waffle Recipe
Prep time: 10 minutes
Cook time: 5 minutes per waffle
Total time: 15-20 minutes
Servings: 4 waffles
Ingredients:
2 cups all-purpose flour
2 tsp baking powder
1/2 tsp salt
1 tsp Italian seasoning
1/2 tsp garlic powder
1/4 tsp onion powder
1/4 tsp crushed red pepper flakes (optional)
1 1/2 cups milk
2 large eggs
1/4 cup olive oil
1 cup shredded mozzarella cheese
1/2 cup mini pepperoni slices
1/2 cup pizza or pasta sauce, for dipping
Instructions:
Preheat your waffle iron to medium-high heat and lightly grease it with non-stick cooking spray.
In a large mixing bowl, whisk together the all-purpose flour, baking powder, salt, Italian seasoning, garlic powder, onion powder, and crushed red pepper flakes (if using).
In a separate bowl, whisk together the milk, eggs, and olive oil. Gradually pour the wet ingredients into the dry ingredients and mix until just combined. Do not over mix; some small lumps are okay.
Gently fold in the shredded mozzarella cheese and mini pepperoni slices until evenly distributed throughout the batter.
Pour about 1/4 of the batter (approximately 1/2 to 3/4 cup, depending on the size of your waffle maker) onto the preheated waffle iron. Close the lid and cook for 5 minutes, or until the waffle is golden brown and crispy on the outside.
Carefully remove the cooked pizza waffle from the waffle maker and transfer it to a plate. Repeat with the remaining batter, making sure to re-grease the waffle iron between each waffle.
Allow the waffles to cool slightly before cutting them into quarters or eighths. Serve warm with pizza sauce on the side for dipping.
You can also use pizza dough instead of waffle batter for the pizza crust.  Here is a fun recipe:
Ingredients:
- Pizza dough (store-bought or homemade)
- Pizza sauce
- Mozzarella cheese, shredded
- Pizza toppings of your choice (e.g., pepperoni, mushrooms, bell peppers, onions, olives, etc.)
- Additional seasonings (dried oregano, basil, garlic powder, red pepper flakes)
Instructions:
1. Preheat your waffle maker according to the manufacturer's instructions.
2. Roll out the dough on a lightly floured surface to a thickness of about 1/4 inch.
3. Cut the pizza dough into squares or rectangles that will fit into your waffle maker.
4. Place a piece of dough onto the preheated waffle iron.
5. Spread a spoonful of pizza sauce onto the dough, leaving a small border around the edges.
6. Sprinkle a generous amount of shredded mozzarella cheese over the sauce. If you are a cheese lover, add more cheese!
7. Add your desired pizza toppings on top of the cheese.
8. Sprinkle additional seasonings such as dried oregano, basil, garlic powder, or red pepper flakes.
9. Place another piece of pizza dough on top and press the waffle maker to seal the edges.
10. Cook the pizza waffle in the waffle maker until the dough is golden brown and the cheese is melted and bubbly.
11. Carefully remove the pizza waffle from the iron and let it cool slightly before serving.
12. Repeat the process with the remaining pizza dough and toppings.
13. Serve the pizza waffles hot with additional tomato or pasta sauce for dipping, if desired.
Note: The cooking time may vary depending on the thickness of the pizza dough and the heat of your waffle maker, so keep an eye on the waffles to prevent them from burning.
Secrets and Suggestions for Perfect Pizza Waffles:
- Ensure the waffle maker is adequately preheated before pouring the batter to achieve crispy waffles.
- Don't overload the waffle maker with toppings as it may prevent the waffles from cooking evenly.
- Use a non-stick waffle maker or lightly grease it to prevent the waffles from sticking.
- Experiment with different gooey cheese varieties like mozzarella, cheddar, or provolone for unique flavour combinations.
- If you prefer a thinner crust, spread the batter thinly on the waffle maker.
- Allow the pizza waffles to cool slightly before removing them from the iron to avoid them falling apart.
Savoury and Creative Toppings
While traditional pizza toppings work beautifully in pizza waffles, here are some creative ideas to elevate your culinary experience:
- BBQ Chicken: Top your pizza waffles with diced cooked chicken, BBQ sauce, red onions, and cilantro for a tangy and savoury twist.
- Margherita: Keep it simple yet delicious with fresh basil leaves, cherry tomatoes, mozzarella cheese, and a drizzle of balsamic glaze.
- Mediterranean: Channel the flavours of the Mediterranean with toppings like feta cheese, Kalamata olives, sun-dried tomatoes, and a sprinkle of tzatziki sauce.
- Hawaiian: Embrace the sweet and savoury combination by adding pineapple chunks, ham, and a touch of BBQ sauce.
- Pesto Veggie: Swap traditional tomato sauce for pesto and top your waffles with roasted vegetables like zucchini, bell peppers, and cherry tomatoes.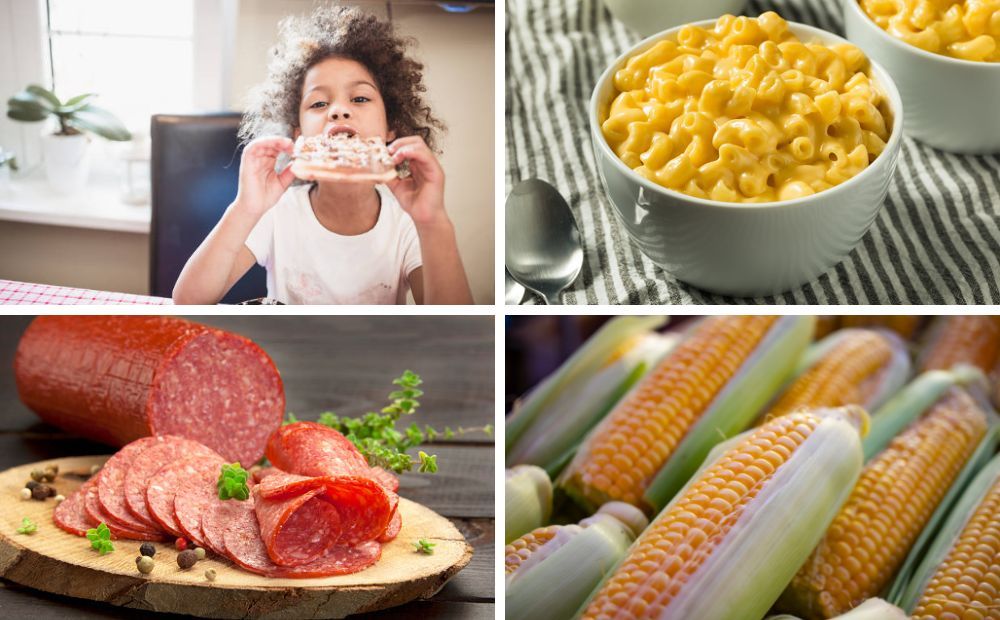 Kid-Friendly Toppings
To entice the little ones, try these kid-approved toppings:
- Mini Pepperoni: Use mini pepperoni slices for bite-sized pizza waffles that kids will love.
- Cheesy Corn: Add a touch of sweetness with canned corn and an extra layer of melted cheese.
- Mac 'n' Cheese: Spread a layer of macaroni and cheese on the waffle batter for a fun and cheesy twist.
- Pizza Bagel Inspired: Recreate the flavours of a classic pizza bagel by topping your waffles with marinara sauce, melted mozzarella, and mini meatballs.
Nutritional Benefits and Healthful Ingredients
Pizza waffles can be a versatile and nutritious option by incorporating healthful ingredients. Consider the following additions:
- Whole Wheat Flour: Substitute a portion of the all-purpose flour with whole wheat flour for added fibre and nutrients.
- Veggie Packed: Sneak in extra vegetables like finely chopped spinach, grated zucchini, or pureed carrots into the waffle batter for added nutrients.
- Lean Protein: Opt for lean protein options such as grilled chicken or turkey sausage as toppings.
- Light Cheese: Use reduced-fat or part-skim cheeses to cut down on saturated fats while still enjoying the cheesy goodness.
- Fresh Herbs: Add fresh herbs like basil, parsley, or cilantro for added flavour and a boost of antioxidants.
Pizza Waffles for Every Occasion
When you make Pizza waffles they can be enjoyed in various settings. Here are a few occasions to serve them:
- Weekend Brunch: Impress your family and friends with a delicious brunch featuring pizza waffles alongside a variety of toppings and condiments.
- Game Night Snack: Elevate your game night snacks by serving pizza waffles as fun and savoury finger food.
- Kids' Birthday Parties: Pizza waffles will be a hit among kids at birthday parties. Set up a DIY pizza waffle station with a range of toppings for everyone to create their own.
- Late-Night Cravings: Satisfy those late-night cravings with a quick and easy pizza waffle fix.
Need a waffle iron? Check out our best Ceramic Waffle Maker picks and get ready to make some delicious waffles!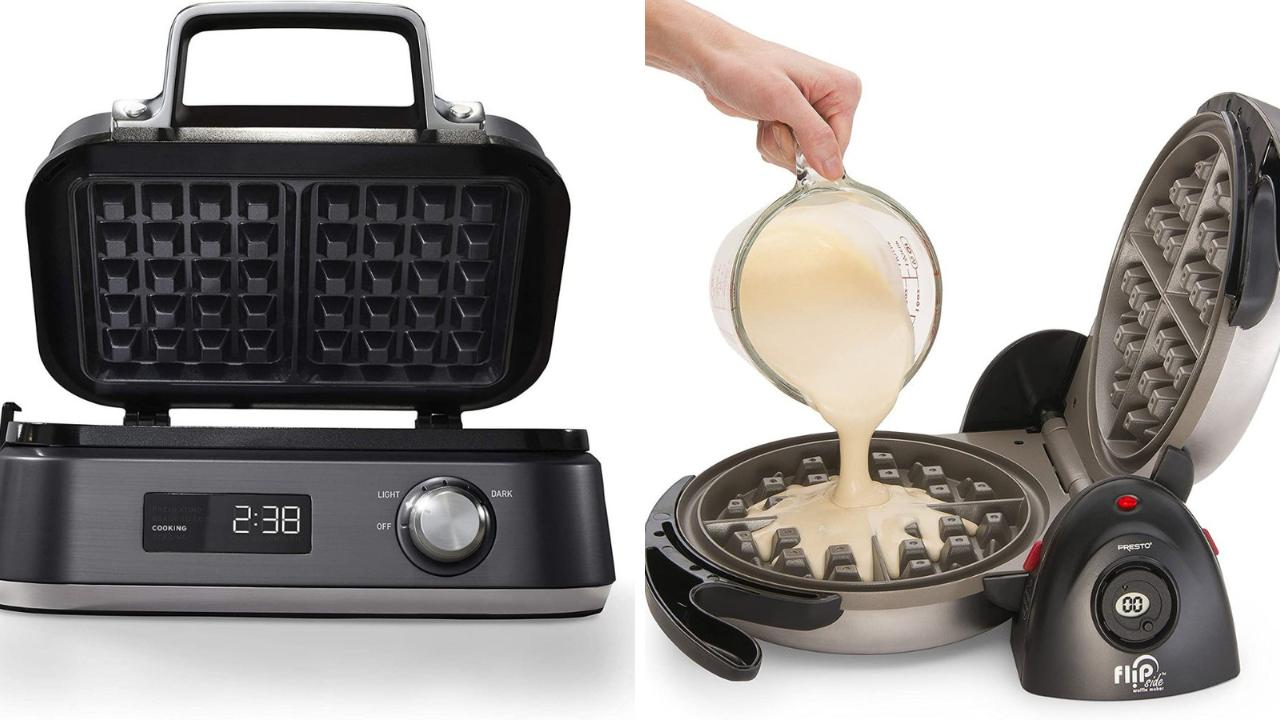 Now that you have all the information you need, it's time to let your culinary creativity shine. Explore various toppings, experiment with different flavors, and enjoy the delightful combination of pizza and waffles.
Where to go next for related articles: