Red velvet waffles are a delicious breakfast treat that combines the rich flavor of red velvet cake with the crispy texture of waffles.
In this post, we will take you through a step-by-step guide on how to make these fluffy and delectable waffles at home. But first, let's quickly look at the history of red velvet waffles and where they originated.
The History of Red Velvet Waffles
Red velvet waffles are a popular dish believed to have originated in the southern United States. The dish is a spin-off of the classic red velvet cake and is typically made with cocoa powder, vinegar, buttermilk and red food coloring, which give it a unique tangy flavor and deep red color.
The first mention of red velvet waffles can be traced back to a blog post by a food blogger named Stephanie Parker, who posted a recipe for red velvet waffles in 2009. Red velvet waffles have gained popularity in recent years and are often served as a special treat for holidays or special occasions.
Red Velvet Waffle Recipe
Ingredients:
2 cups all-purpose flour
2 tablespoons cocoa powder
1 teaspoon baking powder
1 teaspoon baking soda
1/2 teaspoon salt
1/2 cup granulated sugar
2 eggs
1 1/2 cups buttermilk
1/2 cup vegetable oil
1 tablespoon red food coloring
1 teaspoon vanilla extract
Equipment:
Mixing bowl
Whisk
Measuring cups and spoons
Spatula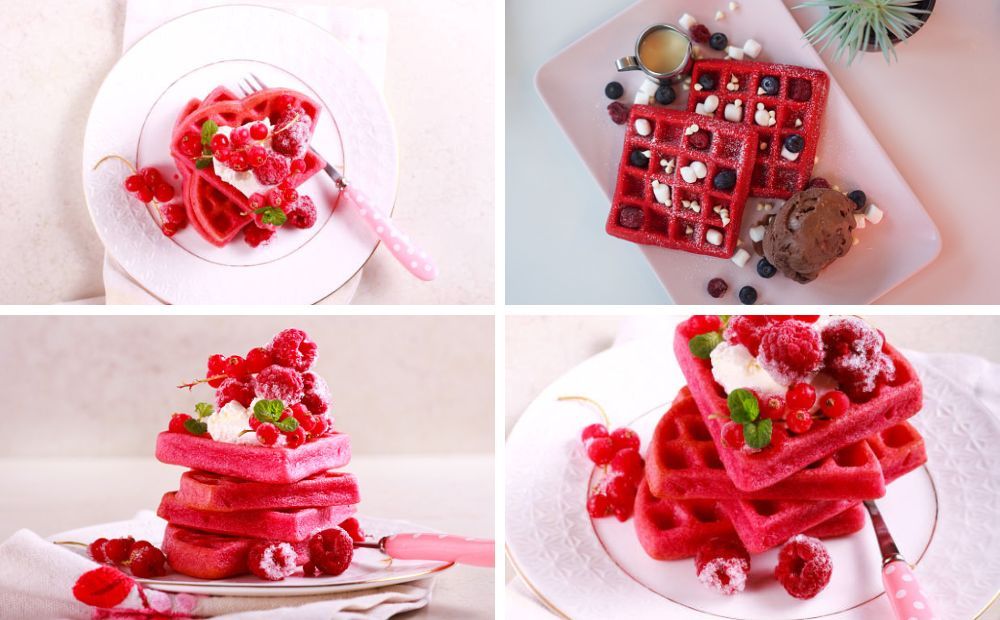 Step 1: Preheat your waffle maker
Before you start preparing the waffle batter, preheat your waffle maker to ensure that it's hot and ready to cook your waffles. Most waffle makers come with a light or beep that signals when it's preheated and ready for use.
Step 2: Prepare the dry ingredients
In a mixing bowl, whisk together the flour, cocoa powder, baking powder, baking soda, salt, and sugar until they are well combined. Set aside.
Step 3: Prepare the wet ingredients
In a separate mixing bowl, beat the eggs until they are frothy. Add the buttermilk, vegetable oil, red food coloring, and vanilla extract. Mix well until all the ingredients are well combined.
Step 4: Mix the dry and wet ingredients
Pour the wet ingredients into the dry ingredients and mix well until a smooth batter is formed. Be sure not to over mix as this can result in tough waffles.
Step 5: Cook the waffles
Once your waffle iron is preheated, spray it with non-stick cooking spray and scoop 1/2 to 3/4 cup of batter onto the center of the waffle iron. Close the lid and cook the waffles until they are golden brown and crispy. This should take around 3-5 minutes depending on your waffle iron.
Step 6: Serve and Enjoy
Remove the waffles from the waffle iron using a spatula and serve them hot with your favorite toppings, such as whipped cream, berries, or maple syrup. Enjoy your fluffy and delicious red velvet waffles!
Variations:
Add chopped nuts or mini chocolate chips to the waffle batter for added texture and flavor.
Swap out the vanilla extract for almond extract for a different flavor profile.
Drizzle melted chocolate, caramel sauce, powdered sugar or whipped cream on top of the waffles for added decadence.
Red Velvet Waffles FAQs
Here are some commonly asked questions about red velvet waffles to get you started.
Can you use pancake mixture for waffles?
Yes, you can use pancake mixture to make waffles. However, the texture and flavor may be slightly different than using a waffle mix. Pancake mixture is usually thinner and more liquid-like than waffle mix, so it may not produce a crisp, crunchy waffle. Additionally, the flavor may be slightly different due to the different ingredients used in the two mixes.
Is red velvet just cocoa?
No, red velvet is not just cocoa. Red velvet cake or waffles is a type of cake traditionally made with cocoa, buttermilk, and often a red food coloring. The red color is usually achieved by adding a small amount of vinegar and cocoa powder to the cake batter. This creates a mild chocolate flavor and a distinctive red hue.
What is red velvet main ingredient?
The main ingredients of a red velvet waffle are typically flour, sugar, cocoa powder, baking soda, salt, butter, eggs, buttermilk, red food coloring, and vinegar. Some recipes may also call for a small amount of vanilla extract.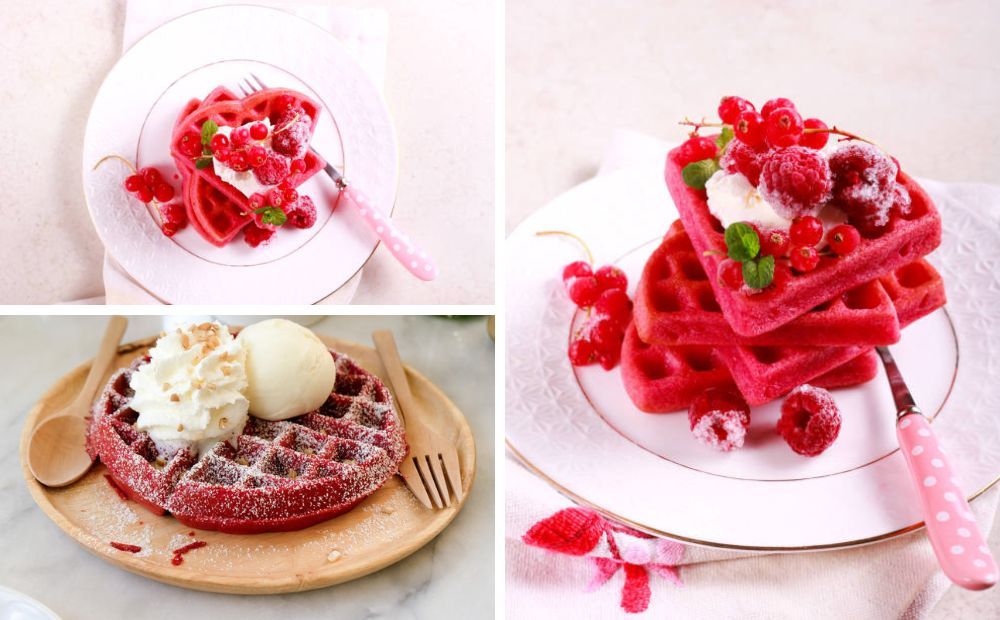 Secrets and Suggestions:
Make sure your waffle iron is properly preheated before adding the batter to ensure even cooking.
Use a measuring cup to scoop the batter onto the waffle iron for consistent portion sizes.
To keep the waffles warm and crispy, place them on a wire rack in a 200°F oven until ready to serve.
Use buttermilk instead of regular milk as it adds a tangy flavor and helps make the waffles more tender.
Use a vegetable oil spray to grease the waffle iron as it prevents the waffles from sticking and ensures they come out easily.
Experiment with different toppings and flavors to make your waffles more interesting and exciting. You can add fruit, nuts, different types of syrup or whipped cream to your waffles.
Finally, have fun with the recipe and don't be afraid to get creative with the ingredients and flavors. Red velvet waffles are a versatile dish that can be adapted to suit your taste preferences.
Need a waffle iron? Check out our best Ceramic Waffle Maker Picks and get ready to make some delicious waffles!