For a truly unique experience, owning a wine fridge is the perfect way to keep your collection of wines at their best and ensure each sip packs as much flavor as the first.
In this guide we'll cover everything you need to know about investing in proper wine storage all in one.
From exploring its advantages, various types available and how to choose the ideal refrigeration unit for your vintages!
Get ready for an immersive journey into wine with ultimate refinement.
3 Key Takeaways
A wine fridge is an essential appliance for any wine enthusiast, providing temperature control, humidity management and protection from light and vibration.
Consider size & capacity, cooling technology & design/aesthetics when selecting a model. Look for adjustable racks, temperature zones & UV protection features to ensure optimal storage conditions.
Monitor temp/humidity levels regularly with a thermometer/hygrometer. Store bottles horizontally at 45° angle w labels facing up to maintain quality of wines in collection.
Why You Need a Wine Fridge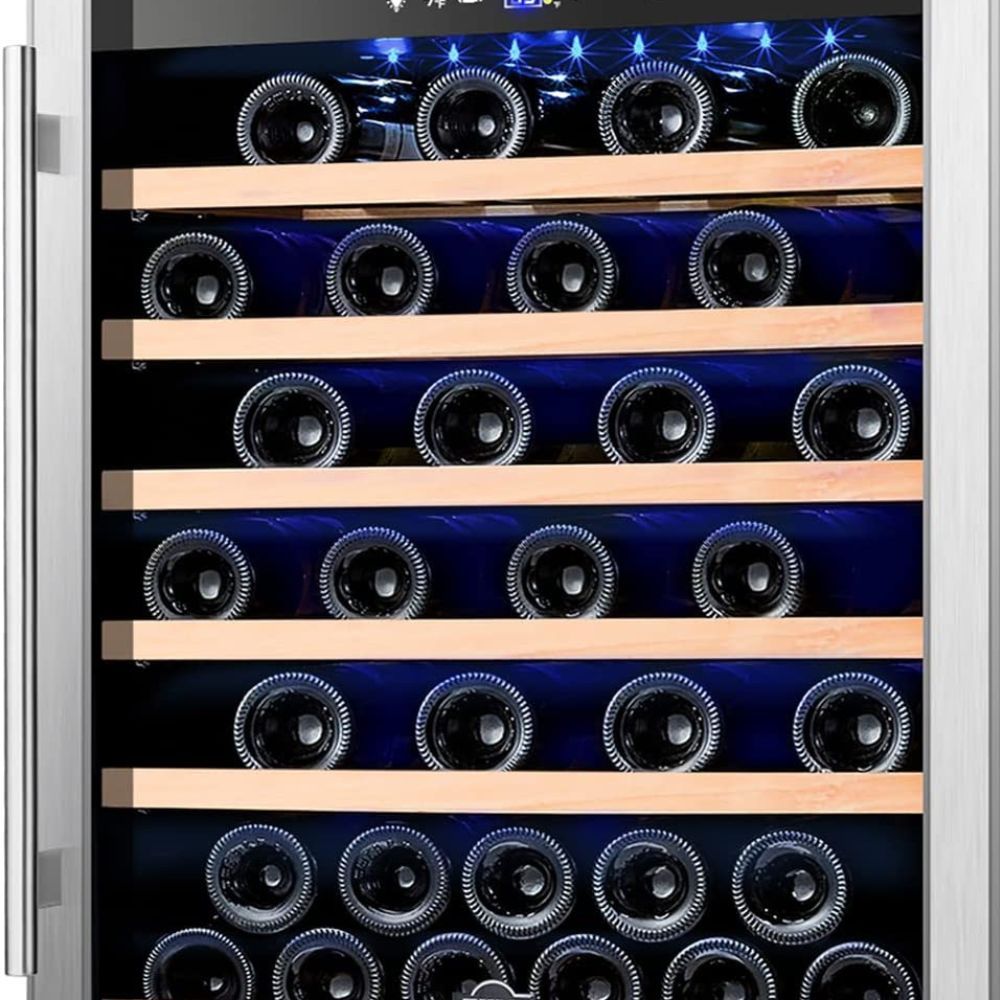 For a wine enthusiast, having their own wine fridge is an absolute must.
Unlike the temperature fluctuations of regular fridges, these specialized appliances provide optimal storage conditions to protect red wines and white wines from excessive light, vibration and humidity.
This makes them perfect for organizing your collection as you can separate both types by storing in different compartments or zones according to individual requirements.
In order to maintain proper levels of care and ensure ultimate preservation throughout time, it's also important that temperature control is monitored regularly with this kind of appliance – another reason why investing in one pays off so well!
Temperature Control
Temperature management is critical in safeguarding the quality and lifespan of your wine selection.
A built-in wine cooler allows for a gradual chilling to attain the required storing as well as serving temperatures, thereby averting temperature variation which could impair cork seals on bottles of vino.
The ideal storage climate for preserving your wines lies between 50 °F and 60 °F, achievable through use of an appropriate fridge specially made for this purpose - such appliances offer dual temperature zones suitable both reds & whites at their preferred pouring heat range making sure that every single glass you pour lives up to its full potential flavour.
Humidity Management
For maintaining top-notch quality, the level of temperature range humidity in a wine cooler is essential. The N'Finity Pro2 S Dual Zone Wine Cellar takes additional measures to ensure both optimal air circulation and relative humidity with its charcoal filter feature for extra efficiency during storage.
Insulation as well as UV protective glass on the fridge walls make it even more successful at preserving superb conditions inside, keeping wines safe from any moisture that might damage their cork seals or affect flavour.
Protection from Light and Vibration
A wine fridge is an essential piece of equipment to ensure that your precious wine collection stays in the best condition possible.
It shields it from anything which may cause harm, such as light and vibration.
When exposed to too much sunlight for a prolonged period of time, delicate compounds break down leading to an unpleasant "cooked" flavor. Something no one wants their wines tasting like!
Having a good quality refrigerator prevents any damage due to vibrations keeping all bottles intact until they are ready for consumption!
Types of Wine Coolers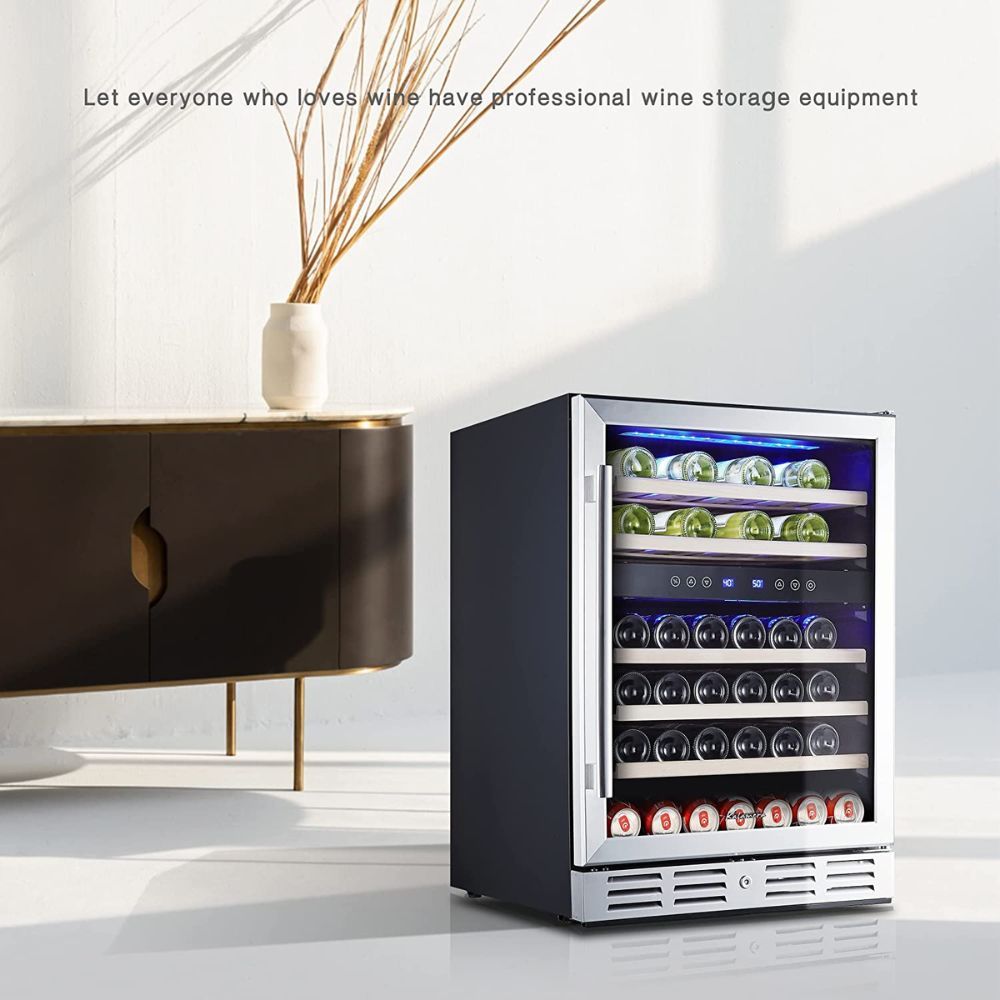 Now that the advantages of having a dedicated wine fridge, have been explored, let's take a look at what types are available on the market.
These can be divided into three categories: freestanding, built-in/under counter and dual zone models.
Each type boasts its own benefits to suit varying requirements and tastes - whether you're an occasional sipper or serious connoisseur there is certain to be one for your collection!
Freestanding Wine Coolers
Wine enthusiasts can benefit from the flexibility and convenience that come with a freestanding wine cooler. Different models are available in varying sizes, making it easy to find one capable of accommodating your specific collection size.
For example, Wine Enthusiast's 6-Bottle Cooler is suitable for individuals with smaller collections or less space.
While the Classic 80 model by them comes rear ventilated, perfect for large displays of bottles.
Built-In/Undercounter Wine Coolers
Installing a built-in or undercounter wine cooler offers a great way to save space without sacrificing style. Available models like the Tylza 24 Inch Wine Cooler and
The Kalamera 24-inch Wine fridge feature adjustable racks and temperature zones for storing your collection at its best, plus UV protection from light damage.
These solutions provide an ideal setup for properly aging wines with confidence that their delicate flavors will be preserved over time.
Dual-Zone Wine Coolers
Dual-zone wine coolers are a great choice for those looking to keep their collection of red and white wines stored at the perfect temperature. Offering two distinct zones, they provide an ideal environment for optimal flavor and quality.
A number of models available on the market include such features as adjustable shelves, UV protection and reversible doors so you can tailor your specific wine storage needs accordingly.
The Wine Enthusiast 32 Bottle Dual Zone Wine Refrigerator and the Frigidaire 38-Bottle Wine Cooler offer top notch options in this category that should be considered before purchase decision is made.
Factors to Consider When Choosing a Wine Fridge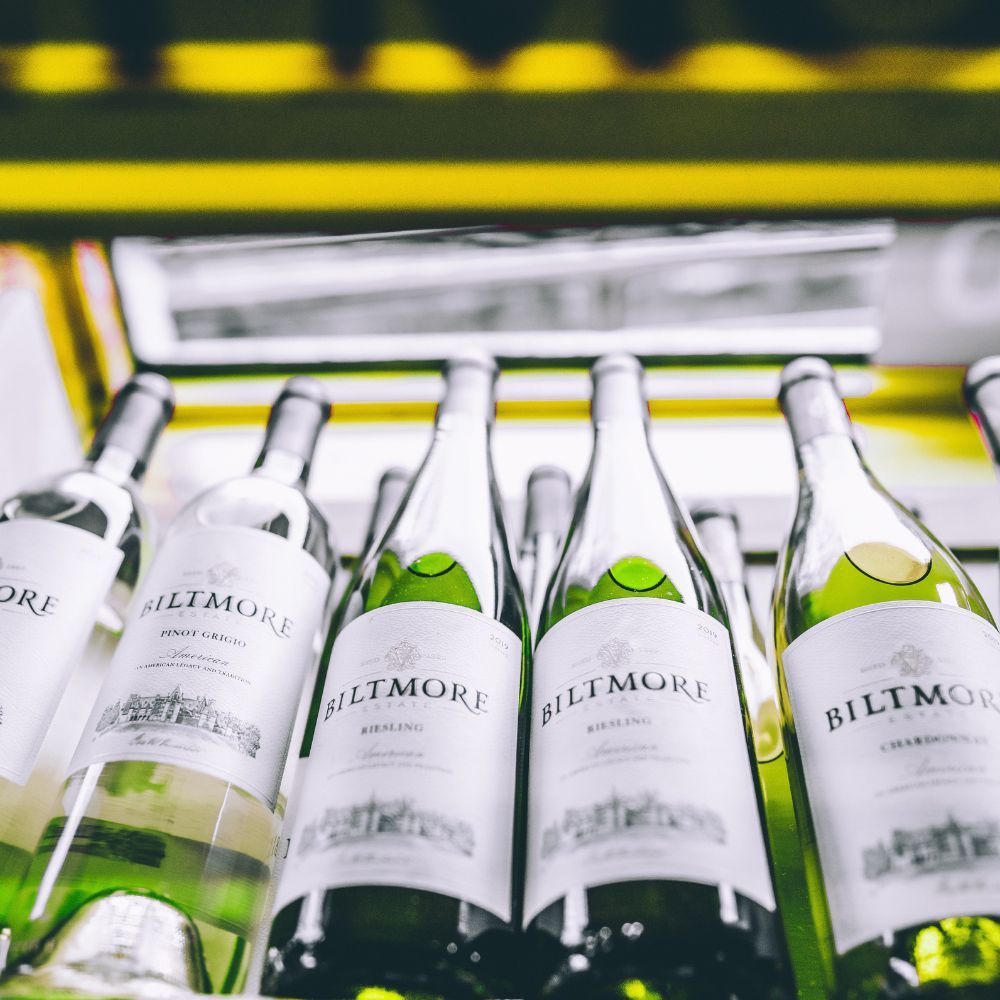 When selecting a wine cooler, there are various aspects to consider including the size and capacity of the unit, cooling technology used, as well as design aesthetics.
To make sure you have all necessary information for making an informed decision that is suitable for your individual needs and desires when it comes to choosing a perfect wine cooler or fridge, we will dive deeper into these topics in the following sections.
With so many coolers available on the market today, picking just one can be overwhelming, but by taking this extra step you'll be able to get exactly what's right for your collection.
Size and Capacity
When looking for a wine fridge, both size and capacity are extremely important as they can influence the maximum number of bottles that will fit. It is vital to find an appliance suited to your particular needs.
From holding just a few bottles in small refrigerators or stocking up with larger fridges equipped for bottle capacity with more space.
Although advertised capacities may look generous, keep in mind that some variation in bottle sizes could limit this somewhat - so it's worth opting for one slightly bigger than expected if expecting any future growth within the collection.
Cooling Technology
When deciding on a wine fridge, take into consideration details such as the noise level, energy usage and cooling capacity to make sure you pick the best one for your needs.
Freestanding units tend to feature compressor-based systems that are powerful yet consume more energy than thermoelectric options found in built-in/under counter coolers which also operate quietly.
Both types of wine cooler offer advantages, so consider all relevant factors carefully before making your decision.
Design and Aesthetics
When considering a wine fridge, design and looks are critical in finding an appliance that fits your home decor as well as personal taste.
Useful features such as adjustable racks, reversible doors and UV protection improve not only the visual appeal but also provide practical advantages for storing wine properly.
Choosing the perfect combination of form and functionality should be based on examining different models with distinct configurations – ranging from single to dual zone or freestanding/integrated refrigerators utilizing compressor or thermoelectric cooling technologies, when selecting a specific model from all available wines many wine fridges offered today.
Essential Wine Fridge Features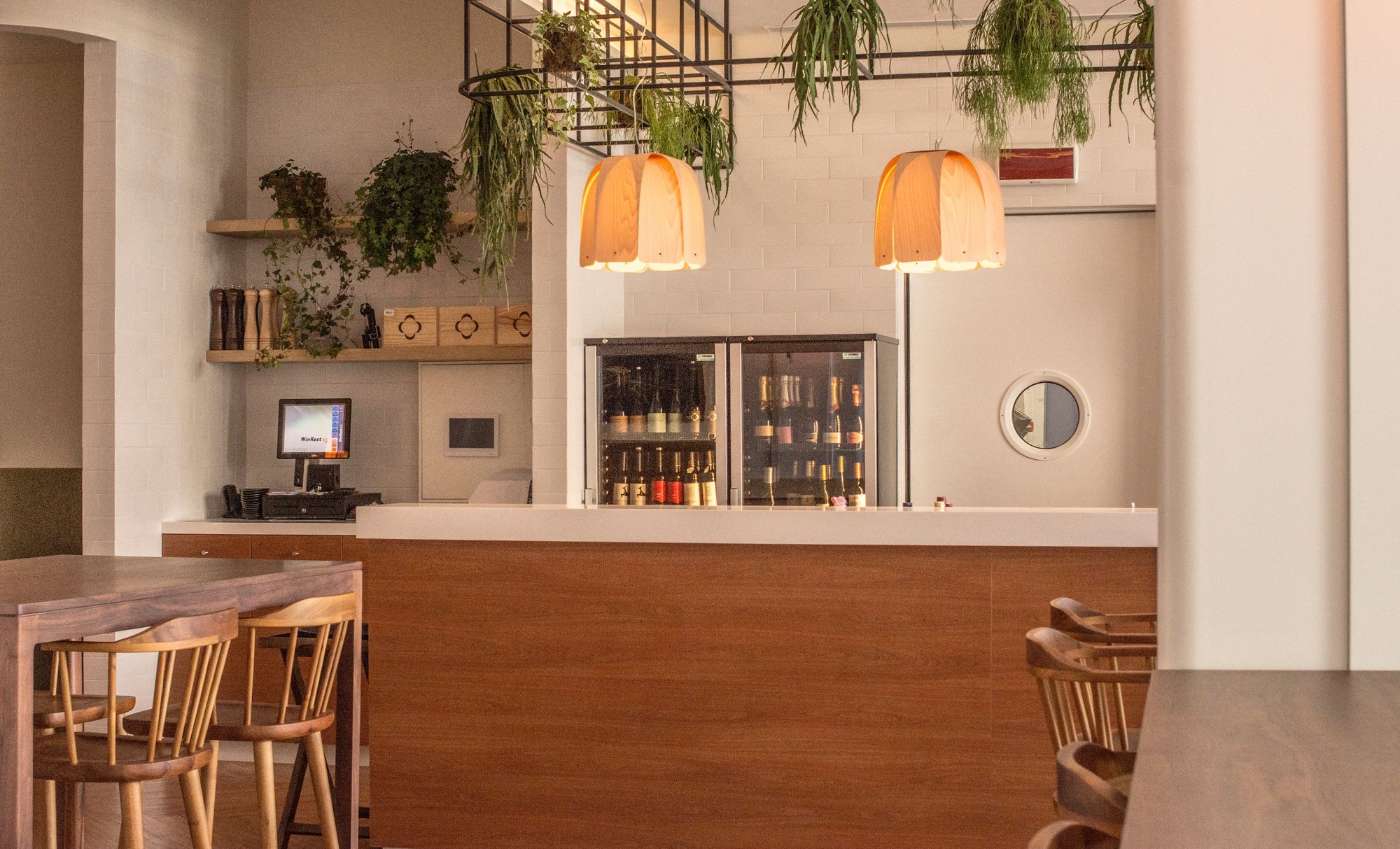 After analyzing the factors that should be taken into account when selecting a wine fridge, it is time to evaluate what features make one refrigerator model stand out from others.
Here we are talking about adjustable racks, two temperature zones, UV protection and reversible doors – all of which contribute to providing the perfect storage conditions for your wines.
By focusing on these attributes you can both obtain an aesthetically pleasing wine fridge plus an item capable of preserving your collection in optimal conditions.
Temperature Zones
The right temperature zones are essential for keeping your wine collection in top condition. For example, dual zone fridges such as the Wine Enthusiast 32-Bottle
Wine Refrigerator can provide two distinct climate sections to house different types of vino: a top section with a range different temperatures of 54-66°F ideal for reds and some whites, plus another bottom area from 46-66°F meant mainly for whites.
With this specific refrigerator model you can store all sorts of wines at their best temperatures which will ensure each sip is simply sublime!
Having the correct temperature setup on your wine fridge helps maintain quality while also prolonging its life span so it's worthwhile investing time into researching an appropriate one that fits those criteria too.
Adjustable Racks
For any wine lover, adjustable racks are essential in their refrigeration unit. The Wine Enthusiast 32-Bottle Wine Refrigerator is equipped with chrome shelves that can be removed to make room for larger bottles.
This versatility allows you to adjust the storage space according to your needs and maximize utilization of whatever type or size of bottle you have on hand.
Consequently, this fridge enables a great level of customization based on personal preferences and requirements when it comes to enjoying some quality vino!
UV Protection and Reversible Doors
It is important to ensure that any wine fridge you select has UV protection. This will protect the delicate compounds in your wines from ultraviolet rays, preserving their taste and colour.
Reversible doors enable installation flexibility as they allow for a configuration which best suits your home space.
When looking at wine fridges, keep these features top of mind so that both your stored collection of wine stays fresh and safe and it looks great in its surrounding area.
Top Wine Fridge Brands and Models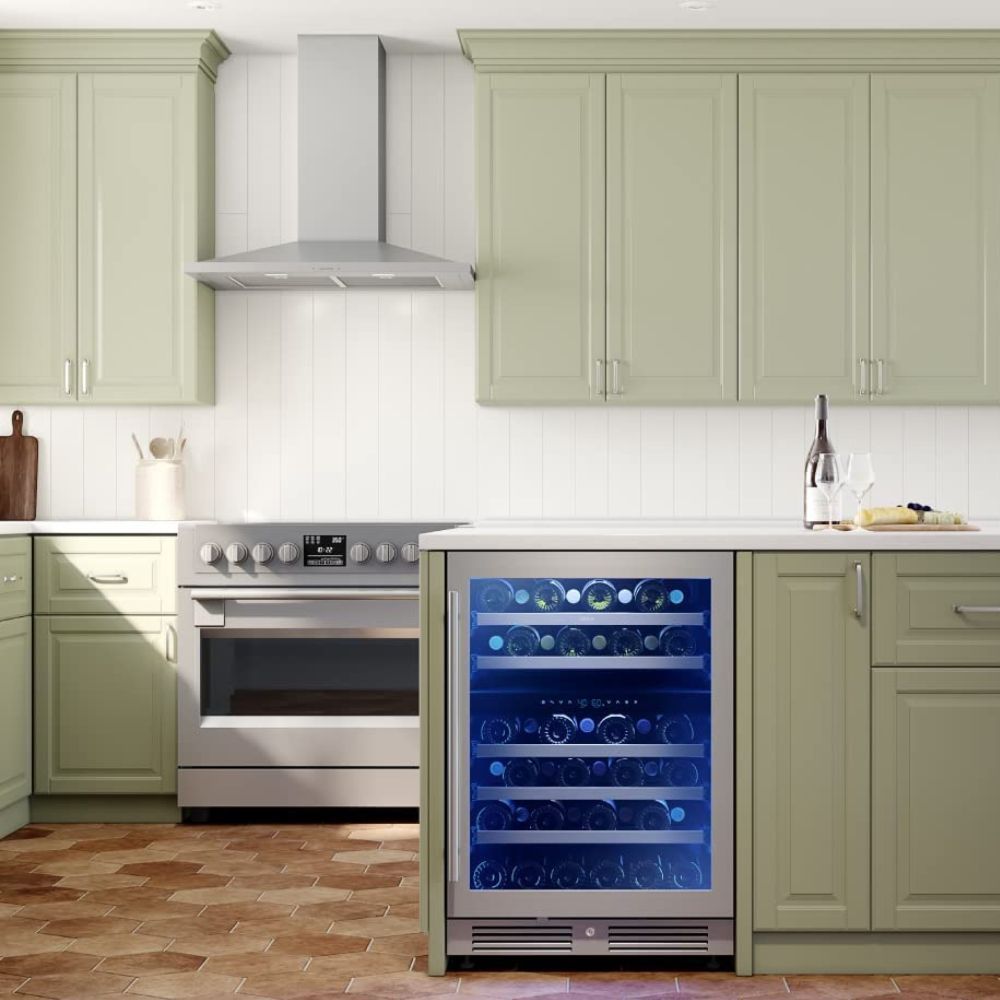 Wine fridges have become increasingly popular, and there are now numerous models available in different price categories.
For those looking to store their wine collection properly without breaking the bank, we've researched a range of top-rated brands that offer budget-, mid-range-, or high-end options.
Regardless of whether you're just beginning your appreciation for vino or own an impressive selection already, finding the perfect wine storage solution is easy with so many selections out there!
Budget Picks
If you're looking for a reasonably priced yet useful option to store wine, then the Ivation 18 Bottle Wine Cellar and the Equator 9 bottle Wine Cooler can provide cost effective solutions.
Both models include features like temperature control and humidity regulation while being gentle on your wallet.
These budget options will enable you to take advantage of having an efficient wine fridge without straining your bank account, thus giving way to even more enjoyable moments with family or friends!
Mid-Range Options
Wine enthusiasts are looking for an optimal way to store their collections without breaking the bank.
A mid-range wine cooler such as EuroCave's Premiere S, Frigidaire 38 Bottle Wine Cooler and Wine Enthusiast Dual Zone Max could be a great solution.
These models provide temperature control, humidity management with adjustable racks plus UV protection guaranteeing ideal storage conditions for your wines at lower cost than top range fridges offer.
High-End Choices
For those passionate about fine wines, top-tier wine fridges are a must.
Leading brands such as EuroCave, Zephyr, EdgeStar and Lanbo Allavino provide refrigeration units with superior temperature control options to ensure that your collection is safely stored in the best possible conditions.
Humidity regulation and light/vibration protection come standard on many of these high end models so connoisseurs can truly appreciate each sip without worry or compromise.
Installation and Maintenance Tips
Finding the right wine fridge for your needs is just one part of the equation. To keep it running optimally, you'll need to consider where to locate it and how often to clean and maintain it, as well as addressing any issues that may arise over its lifetime.
To assist you with this, we have included some handy tips on site selection, regular maintenance procedures such as cleaning, and troubleshooting should something go wrong with your prized appliance.
Choosing the Right Location
The positioning of your wine fridge should be given careful thought. Choose a spot with no direct sunlight or other sources that could cause vibrations, and make sure it is on an even surface for the best results.
Be mindful to consider size in relation to the ambient temperature, and humidity when choosing where you will place it, this prevents any damage while providing performance at its peak.
Keeping such factors into account goes beyond simply assuring top quality results. Ensuring optimal placement ensures prolonged use of the appliance as well!
Cleaning and Maintenance
To keep your wine fridge in excellent condition for the long run, frequent cleaning of both internal and external surfaces as well as its drip tray is very important. Moisture can be a difficulty at times.
Adding an open container of baking soda or silica beads helps to absorb excess moisture.
Regular maintenance with these simple steps ensures that you will benefit from optimal use of this appliance over many years.
Troubleshooting Common Issues
When it comes to the best wine fridges, occasional issues can arise.
Temperature control difficulties such as a malfunctioning thermostat or an impaired evaporator and noise which could be due to loose fan blades or compressor trouble are all common problems that may occur.
To rectify these matters quickly, examine the thermostat, evaporator, fan and compressor for any apparent faults.
This way you will ensure your wine fridge operates optimally in the long run while avoiding a bottle of wine. Deterioration of its performance capabilities.
Wine Storage Secrets and Suggestions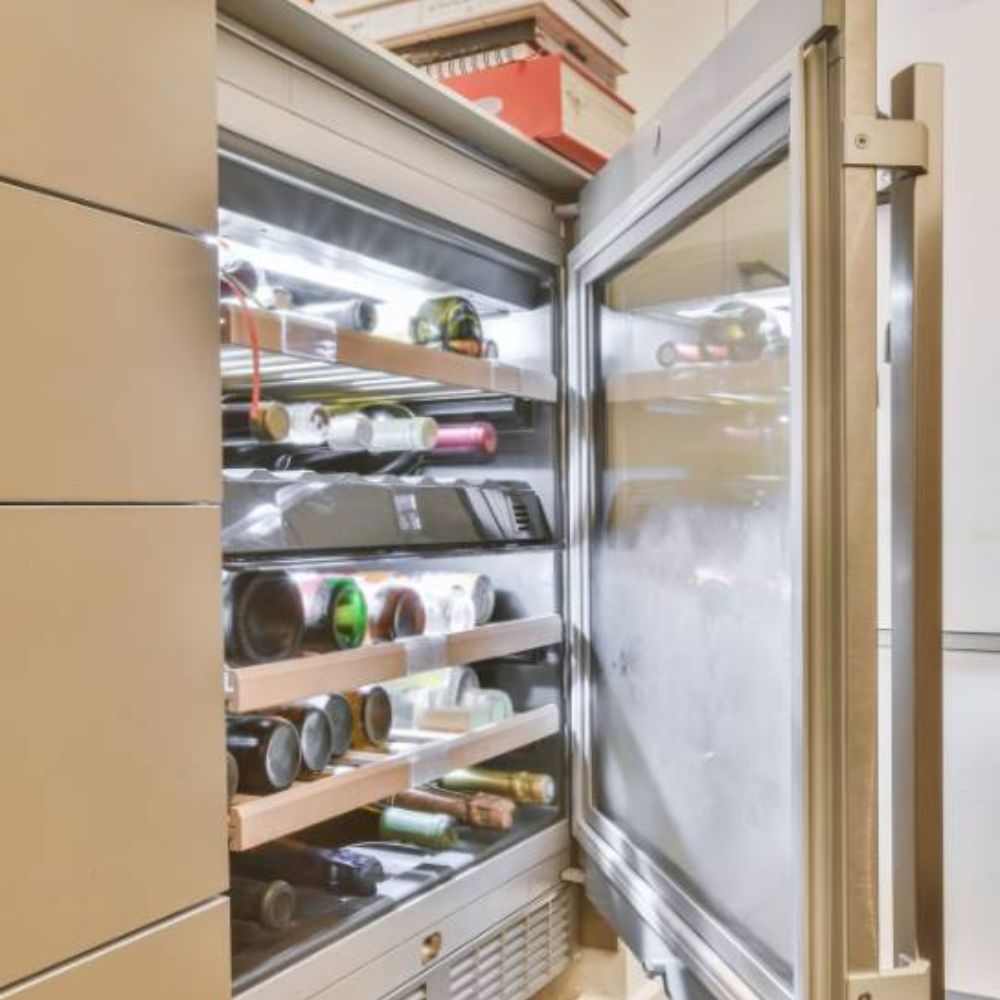 With the right wine fridge, it's time to go. Into how you can properly store your bottles. Different types of wines need distinct treatments.
Such as the ideal bottle orientation and regulating humidity levels so that your collection is preserved in its best condition.
Storing Different Types of Wine
In order to preserve their flavor, aroma and color, it is important to take into account temperature and humidity when storing red or white wines.
For example, for reds, the ideal conditions are a 55-65°F setting with a humidity of 55-75%, whereas whites should be kept at 45-55°F in an atmosphere that has moisture ranging from 55% up until 75%.
Maintaining these climate requirements will help ensure you can keep enjoying every glass as if it was fresh poured each time.
Proper Bottle Orientation
When it comes to keeping your wine fresh, correct bottle positioning is essential.
Wine bottles should be laid on their side and tilted at a 45-degree angle in order for the cork to remain moist and retain its condition over time.
This will stop the cork from drying out or shrinking which can let air enter into the bottle resulting in an undesirable flavour of wine.
Make sure that you have wine labels facing upwards so they do not fade or get damaged.
Monitoring Temperature and Humidity
Regularly monitoring the temperature and moisture content of your wine fridge is key to keeping optimal storage conditions for a secure wine collection.
A thermometer, along with a hygrometer, should be utilized as checking them regularly will guarantee they are held at suggested levels.
If necessary, adjust the thermostat settings or humidifier in order to maintain an ideal environment suitable for one's wine selection.
Summary
Buying a wine fridge is an excellent choice for any oenophile.
By weighing factors such as size, cooling technology, and look & feel one can find the ideal appliance to meet their specific requirements.
Through proper installation, upkeep and storing methods your collection of vintages will be kept in great condition so every glass may bring forth fresh enjoyment - thus we ought to toast with hearty cheers this realm where fine wines are stored tastefully, enjoyed fully and celebrated joyfully!
If you are looking for a wine fridge then our blog post on the best wine fridge may be of interest to you.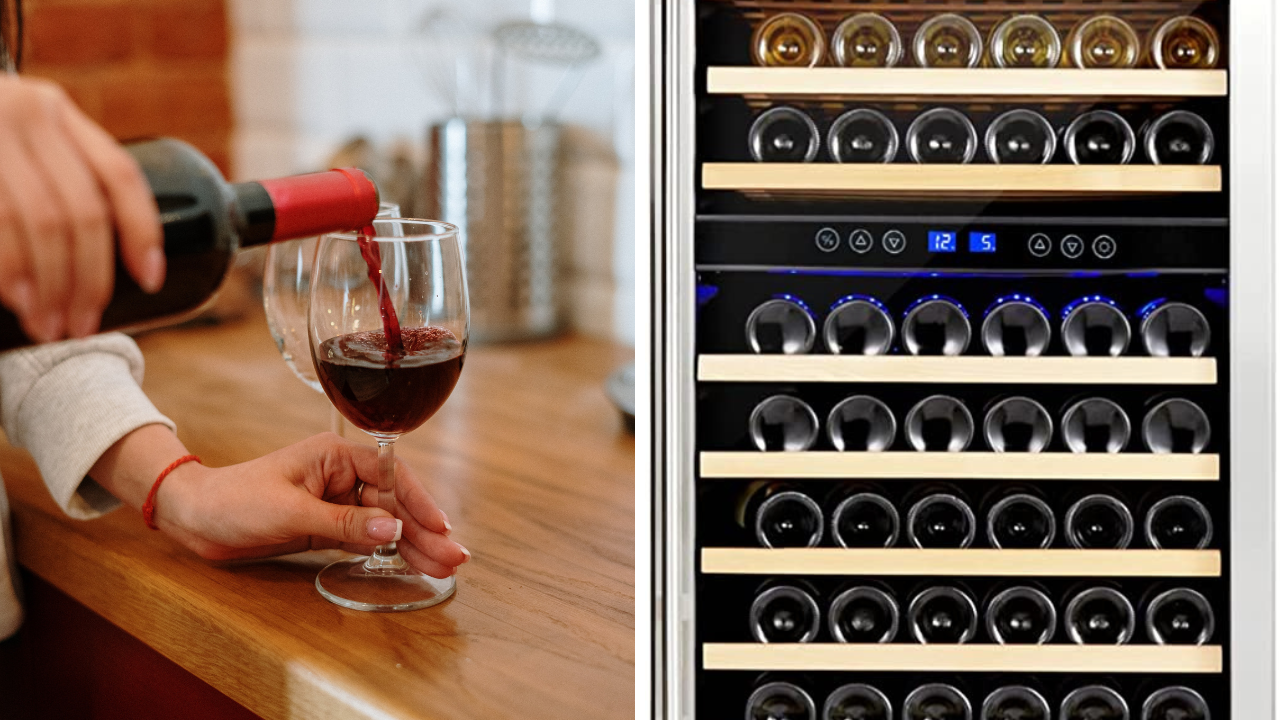 If you are looking to store a large wine collection you may want to check out our article on the best large fridge.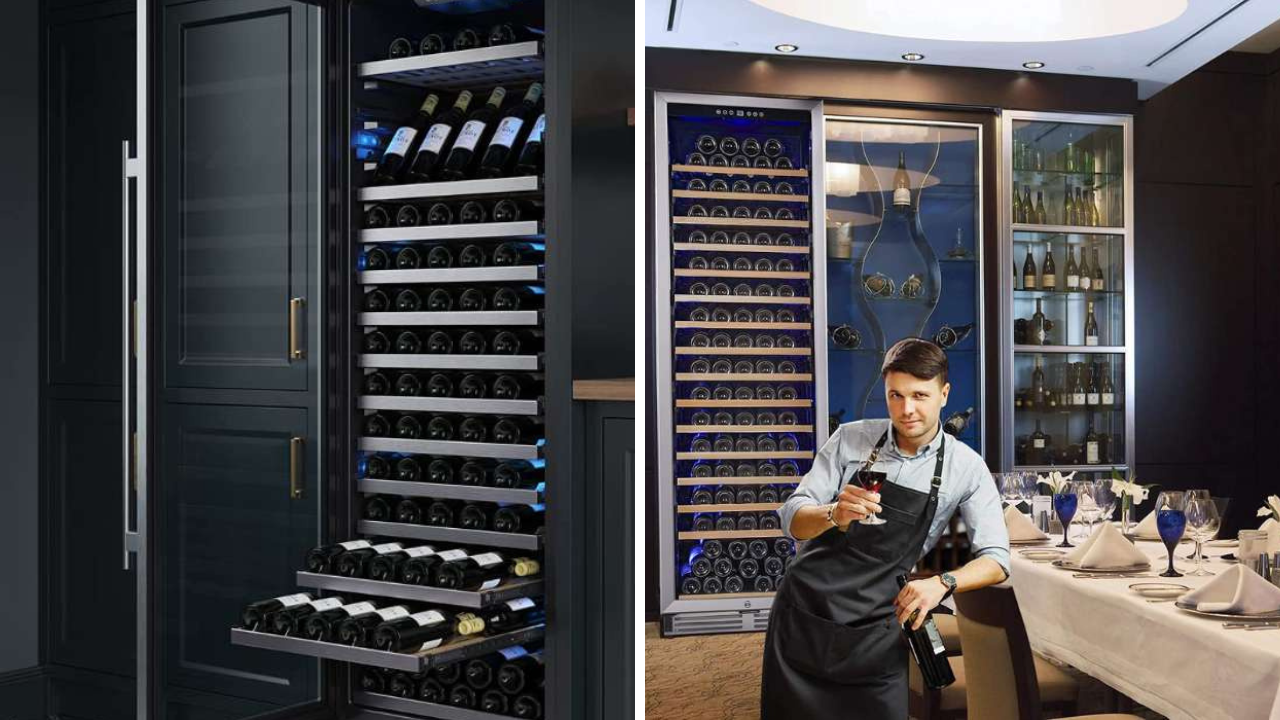 If you are looking for a wine cooler for under the counter then check out our top picks for the best under counter wine fridge.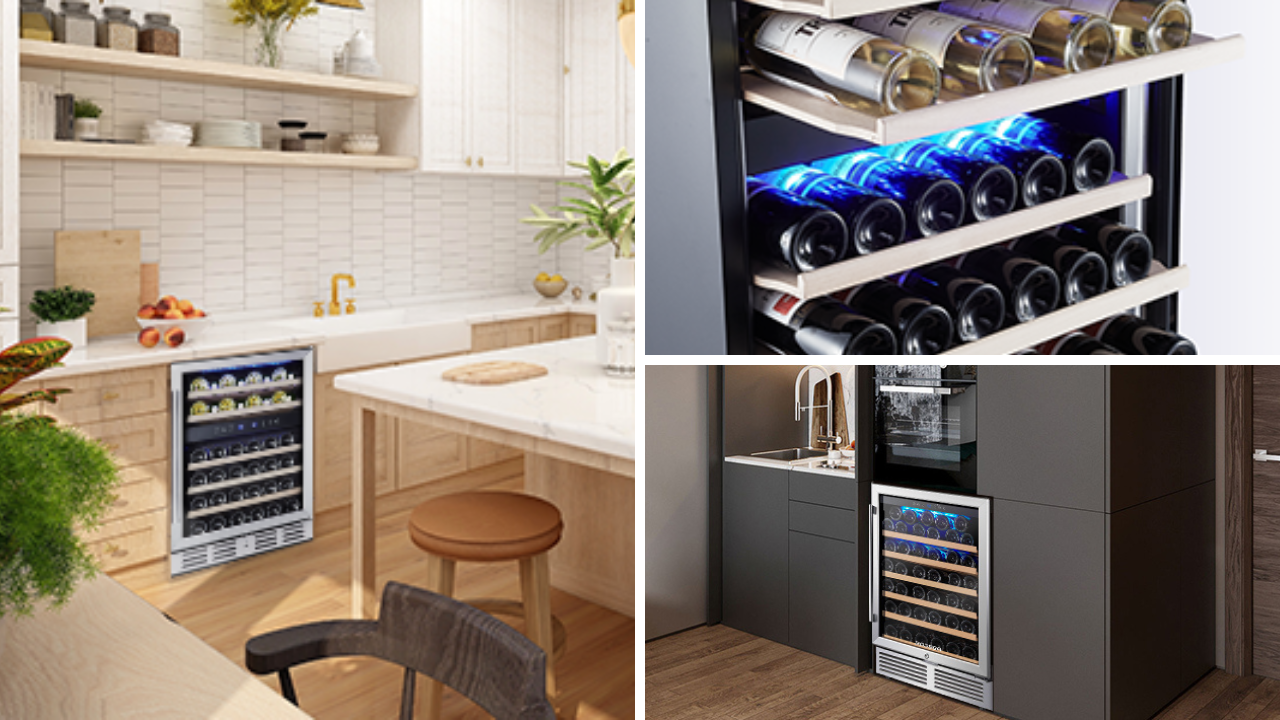 If you are looking for a smaller Wine Cooler, check out our blog post on our top picks for the Best Slim Wine Fridge.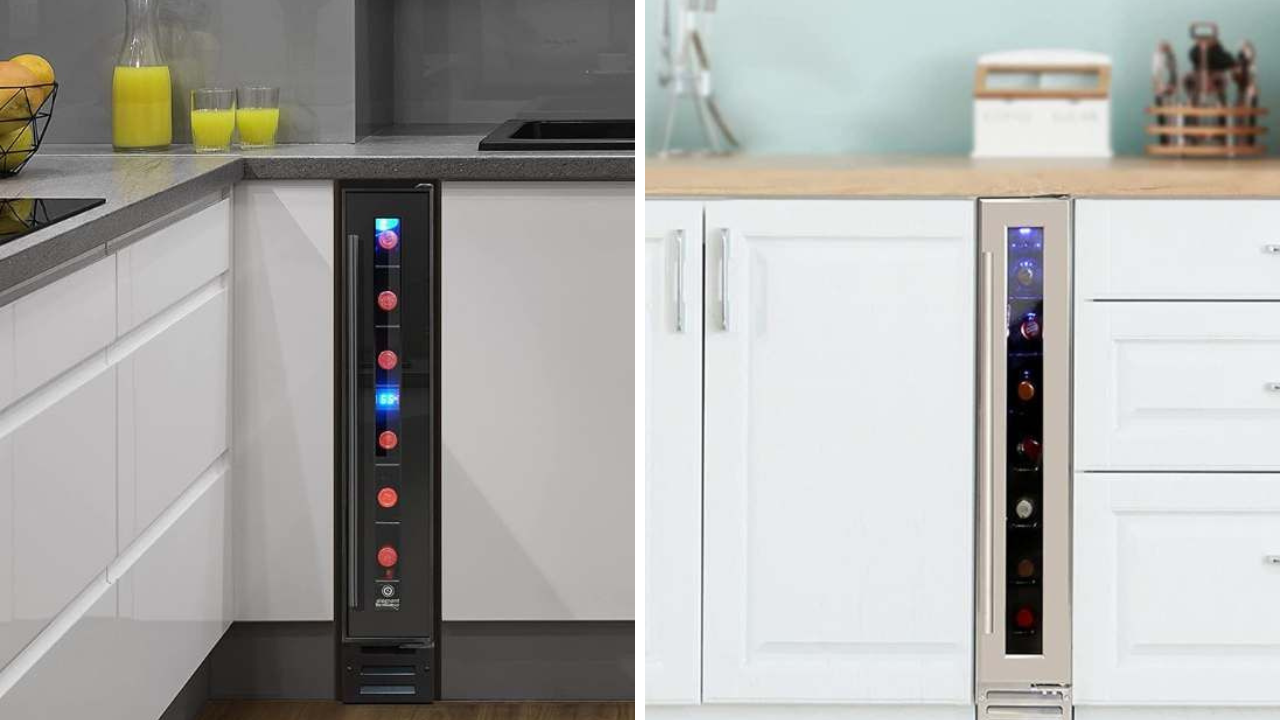 Frequently Asked Questions
What is the difference between a wine cooler and a wine refrigerator?
Wine coolers and wine refrigerators both serve the same purpose, but with different technologies. Wine coolers use thermoelectric cooling, which is less powerful than the compressor technology used in wine refrigerators. This also makes them quieter than their counterparts. Compressor cooled fridges are louder when operating due to their stronger cooling capabilities, so it may be beneficial if noise does not disrupt your home environment while still maintaining a consistent temperature for storing your wines.
How much is a decent wine fridge?
Finding the perfect wine fridge to suit your needs and budget may require some research. Prices of these coolers can range from $200-$700, depending on how many bottles you plan to store in it. With so much selection out there, locating a model that suits all your requirements should be possible!
👉  Related Reads: How Cold Does a Wine Fridge Get, Wine Fridge vs Wine Cooler, White Wine Temperature, Red Wine Temperature, Wine Fridge Temperature, How to Drink Wine, How to Tell if Wine is Bad, How to Serve Wine Properly, How to Decant Wine, Storing Wine at Home, Why is My Wine Fridge Not Cooling?, How long does a wine fridge last?, Built in vs Freestanding Wine Fridge, How to Load a Wine Fridge