If you're looking for the best under counter wine fridge to store and maintain your precious wine collection, this comprehensive guide is here to provide all the necessary information about purchasing one of these fridges in 2023.
Understanding key factors before making a purchase decision as well as installation tips and maintenance advice.
We'll look at several top-rated models on the market that could be ideal for keeping your bottle's best wine perfectly chilled so when hosting dinner parties with friends, there will never again be any disappointment from improperly stored or off-tasting wines!
3 Key Takeaways
Discover the top 5 under counter wine fridges of 2023 for optimal storage and display of your collection.
Consider factors such as capacity, cooling technology, single zone vs dual zone, noise & vibration levels when selecting an under counter wine cooler.
Look out for additional features like shelving options with wooden materials, door design & UV protection and security locking mechanisms to ensure safety and longevity of your wines.
RELATED
: Get a
FREE trial of Amazon Prime
to get access to free express deliveries on large wine refrigerators, groceries, and more!
Top 5 Under Counter Wine Fridges of 2023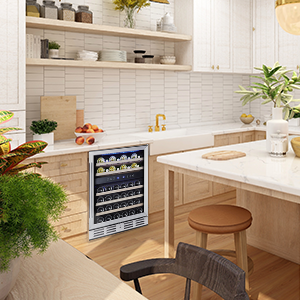 The year 2023 has brought forth a great selection of under counter wine coolers, suitable for both casual drinkers and passionate wine collectors alike.
Our wine fridge models can accommodate 28 to 52 bottles. They offer unique features that make them stand out from other counter wine refrigerators on the market.
You may want to check out our other blog posts that feature wine fridges with larger or smaller capacities:
Slim Wine Fridge: store up to 8 bottles
Best Wine Fridge: store up to 157 bottles
👉 We participate in the Amazon Associates Program, if you buy a product with the links that we provide, we may receive a small commission from Amazon. There is NO additional cost to you!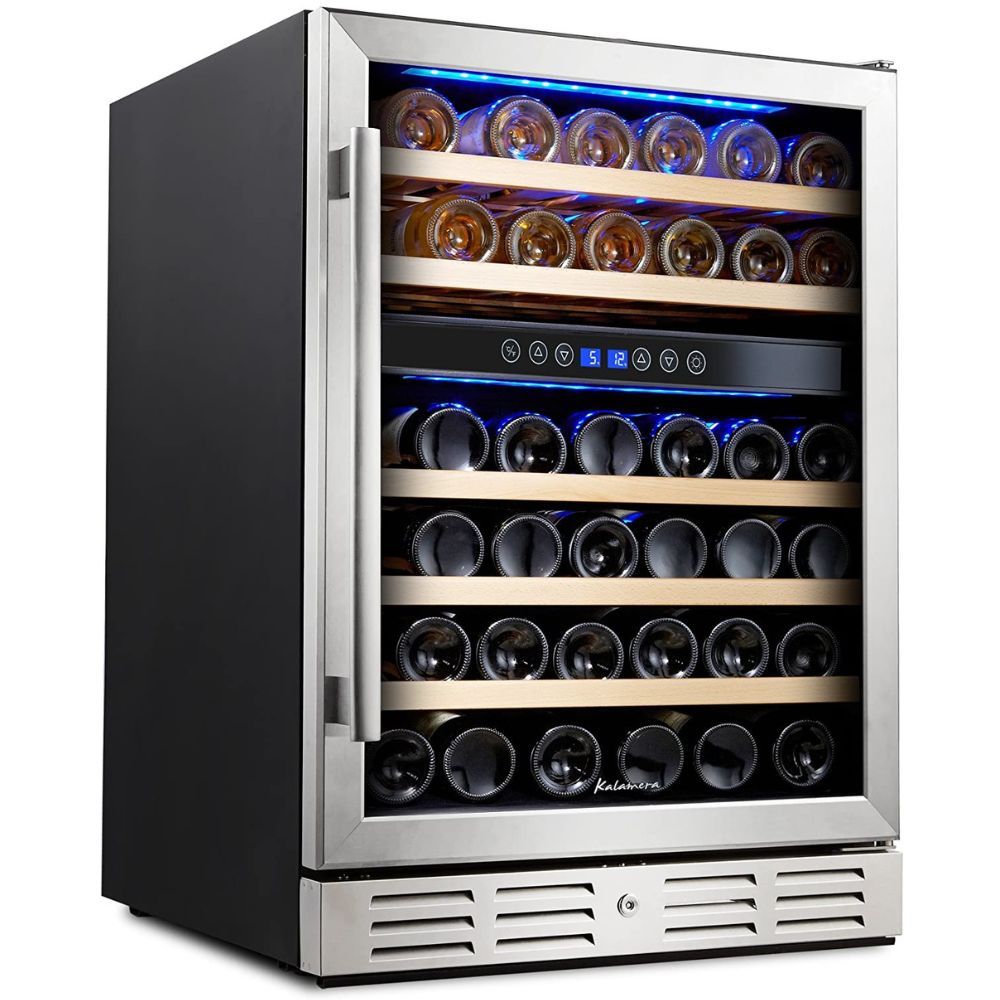 Best For Its Overall Performance
Check Price on Amazon
Why We Chose It
Kalamera 24-inch Wine Cooler is the perfect addition to any home. It features a dual zone thermostat with upper and lower zones ranging from 40-50°F and 50-66°F respectively, so you can keep your favorite wines at the perfect temperature.
Plus, the temperature memory function ensures that the cooler restores the set temperature after a power loss, so your collection is always safe.
This wine cooler also boasts a large capacity that can hold up to 46 bottles of different sizes and a stainless steel frame with two layers of tempered glass for optimal temperature control.
What You Should Know
The Kalamera 24-inch Wine Cooler also features an automatic defrosting function that works every 6 hours, allowing you to keep your drinks cold and crisp.
It comes with 5 high-quality wooden shelves to store different-sized bottles and can be used as either a built-in or freestanding unit.
And with its versatile installation, it takes just 23.4(W) x 33(H) x 22.4(D) inches of space, so it can easily fit in any kitchen or bar area.
With its modern design and innovative features, Kalamera 24-inch Wine Cooler is the perfect addition to any wine lover's home.
Product Specs:
Product Specs:
Built-in or freestanding
Dimension(without handle): W23.4" x H33" x D22.4"
Dimension(with handle): W23.4" x H33" x D24.2"
Suggested built-in dimension: W23.8" x H33.2" x D22.4"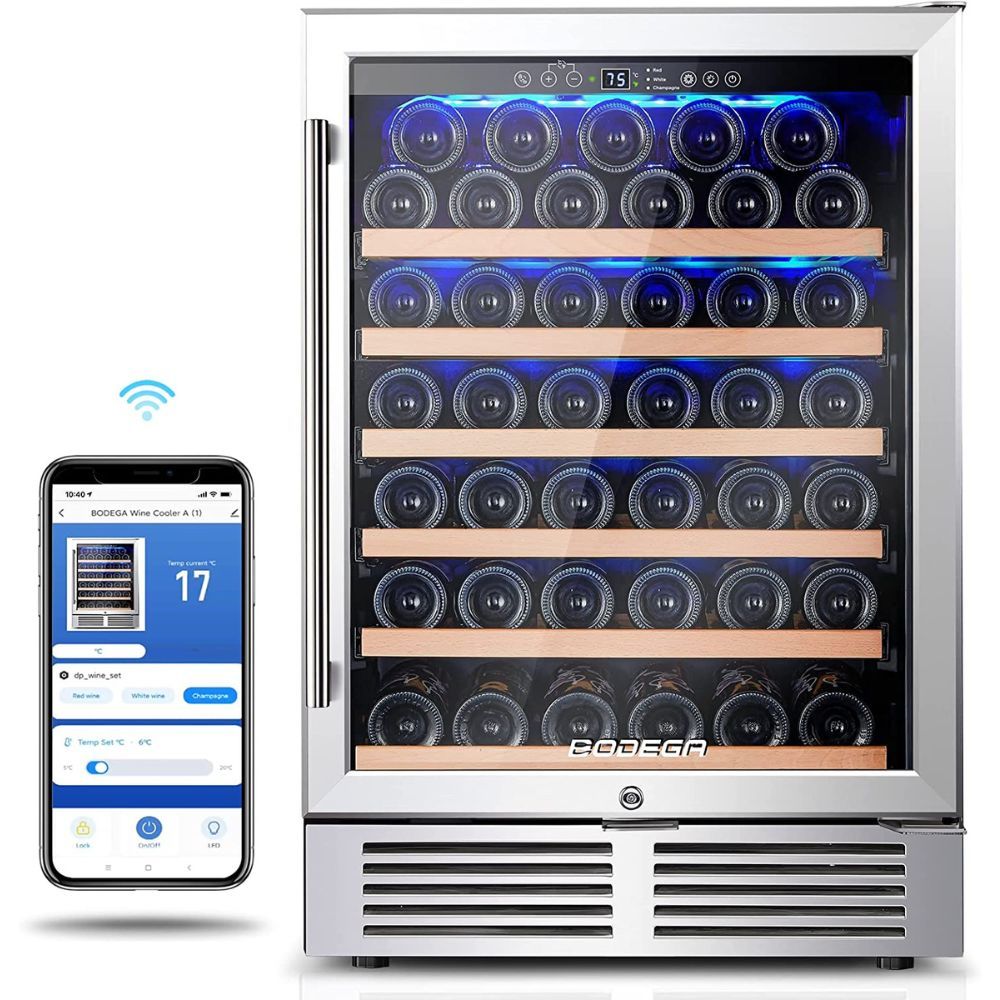 Best For Smart Control
Check Price on Amazon
Why We Chose It
The BODEGA 24 Inch Wine Cooler is the perfect addition to any wine enthusiast's home! With its unique vibration absorption system, this wine cooler is super silent and has low noise.
The temperature setting can be adjusted from 5℃- 20℃ and 41℉-68℉, and you can easily and precisely set the temp level to your liking.
Plus, the blue LED lights facilitate wine picking even when it's dark. What's more, you can control the BODEGA Wine Cellar with the WIFI app from any Android or Apple device!
What You Should Know
The BODEGA 24 Inch Wine Cooler is perfect for any home. Its sleek design and professional features make it the ideal choice for your bar, kitchen, or office.
It can be installed as a built-in or freestanding wine cooler and comes with a removable wooden frame to hold any wine.
Plus, they offer a 1-year warranty service and long-life after-sales service.  Get your own BODEGA 24 Inch Wine Cooler today!
Product Specs:
Product Dimensions: 23"D x 23.5"W x 34.1"H
Capacity: 145 Liters
Configuration: Freezerless
Noise Level: 38 dB
Installation Type: Built-in/ Undercounter/ Tabletop/ Freestanding
Defrost System: Automatic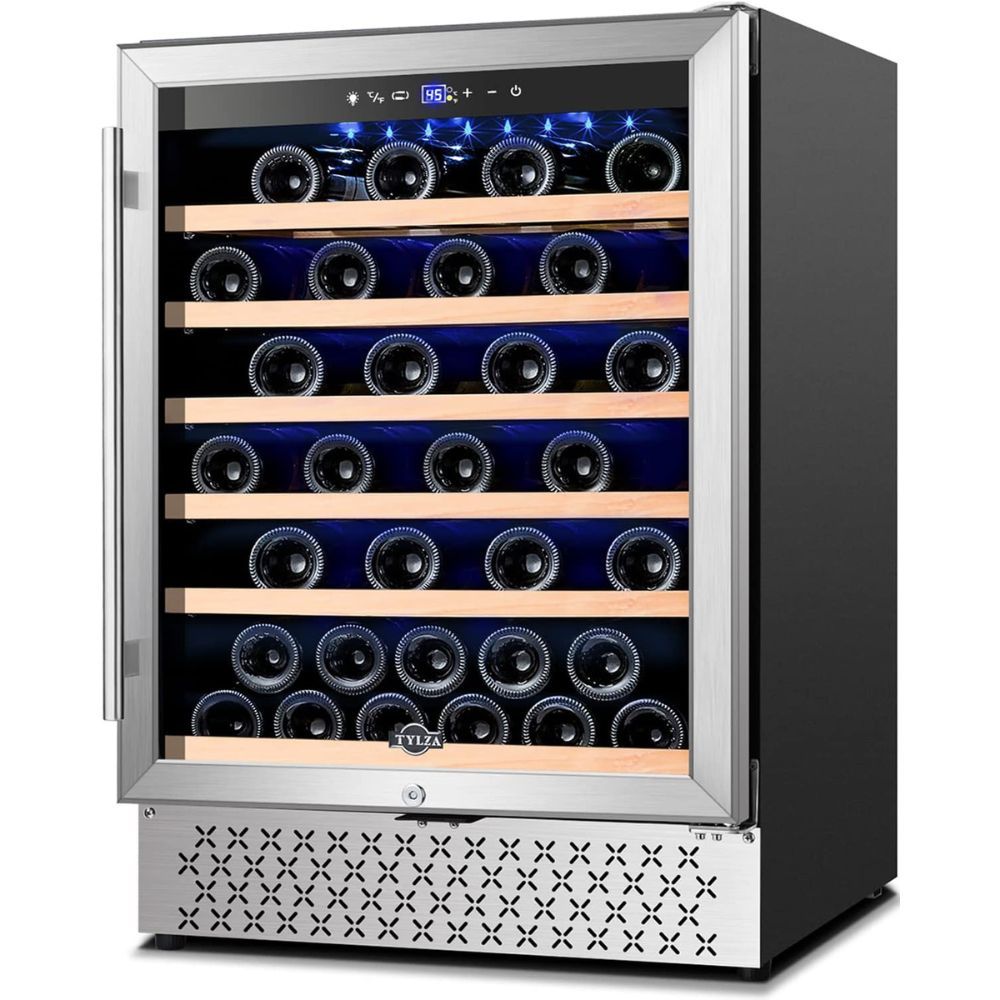 Best For Overall Quality
Check Price on Amazon
Why We Chose It
Tylza 24 Inch Wine Cooler is the perfect choice for wine lovers who want to store and chill their collection of bottles.
With 6 removable beech wooden shelves, it can store up to 51 bottles of standard Bordeaux (2.95 inch Wide Shorter Necked Bottles 750 ml) wine.
It features an advanced compressor with a unique vibration absorption system for quiet operation and adjustable and stable 4 cabinet feet for vibration-free cooling.
Plus, its one-touch digital control is very easy to operate and it has a smart temperature memory function to restore your temperature settings after power-off.
What You Should Know
Tylza 24 Inch Wine Cooler also has a white light display for clear visibility and adjustable temperature from 40°F to 65°F to create the ideal environment for your red and white wine bottles.
It also comes with a 12-month warranty and lifetime technical support. So if you're looking for a reliable and efficient wine cooler refrigerator, Tylza 24 Inch Wine Cooler Refrigerator is the perfect choice for you!
Product Specs:
Product Dimensions: 22.63"D x 23.42"W x 34.25"H
Capacity: 5.3 Cubic Feet
Configuration: Compact Freezerless
Noise Level: 38 dB
Installation Type: Built-in/ Undercounter/ Countertop/ Freestanding
Defrost System: Automatic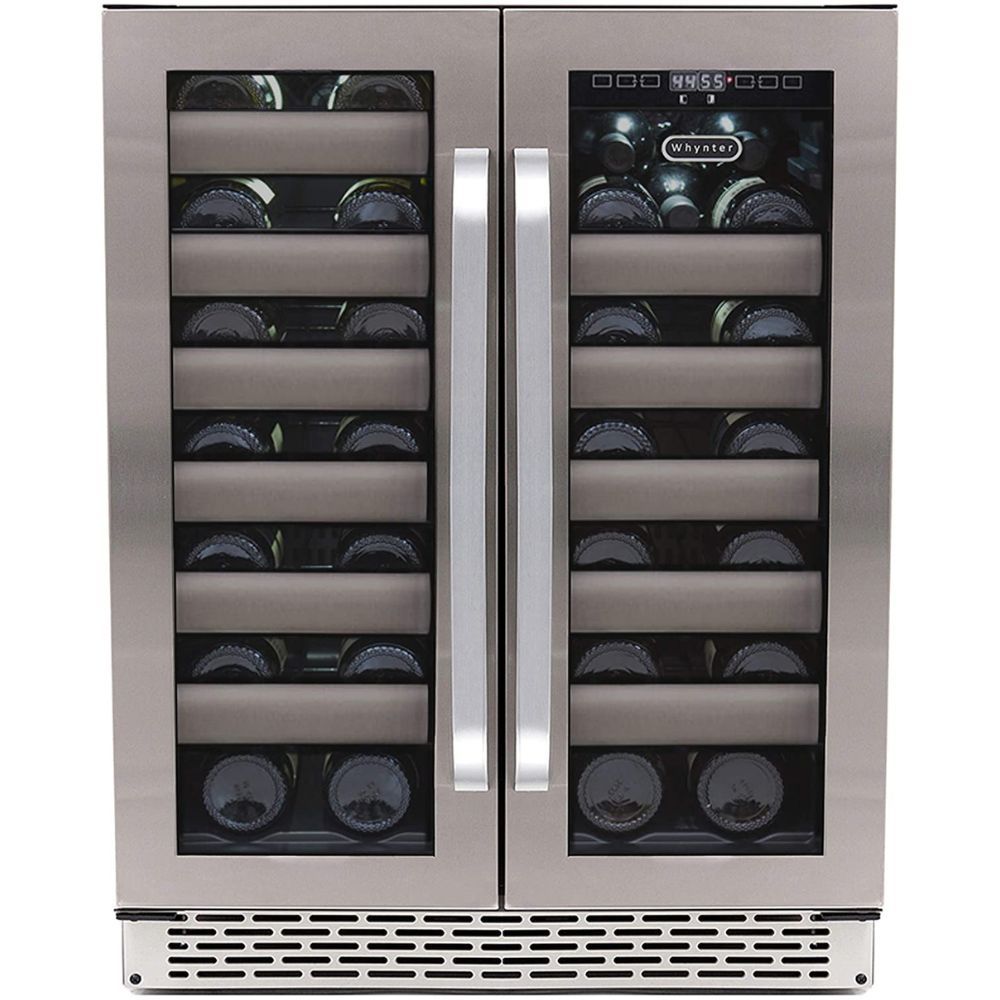 Best For Its Reliability
Check Price on Amazon
Why We Chose It
The Whynter Stainless Steel Wine Refrigerator is a great choice for wine lovers! This wine storage unit can store up to 20 bottles in each zone and features touch controls with a digital temperature display.
It has a wide temperature range of 40ºF-65ºF so you can store both red and white wines at their optimum temperatures. Plus, it's designed with premium materials and techniques to give it a sleek and modern look.
What You Should Know
The Whynter Dual Zone Wine Refrigerator also has a digital temperature control so you can effortlessly adjust its LED light and temperature settings.
It also has an open-door warning system, so it'll remind you if the door has been left open for more than 60 seconds.
Plus, it's protected by a coated tempered double-pane glass door, so you can prevent sun-inflicted deterioration.  Get your own Whynter Dual Zone Wine Refrigerator today!
Product Specs:
Measures: 22.5" Long x 24" Wide x 34.5" High
Capacity: 4.1 Cubic Feet
Dual zones for storing different wine varietals
Installation Type: Built-in or free-standing
Defrost System: Automatic
Noise Level: 45 dB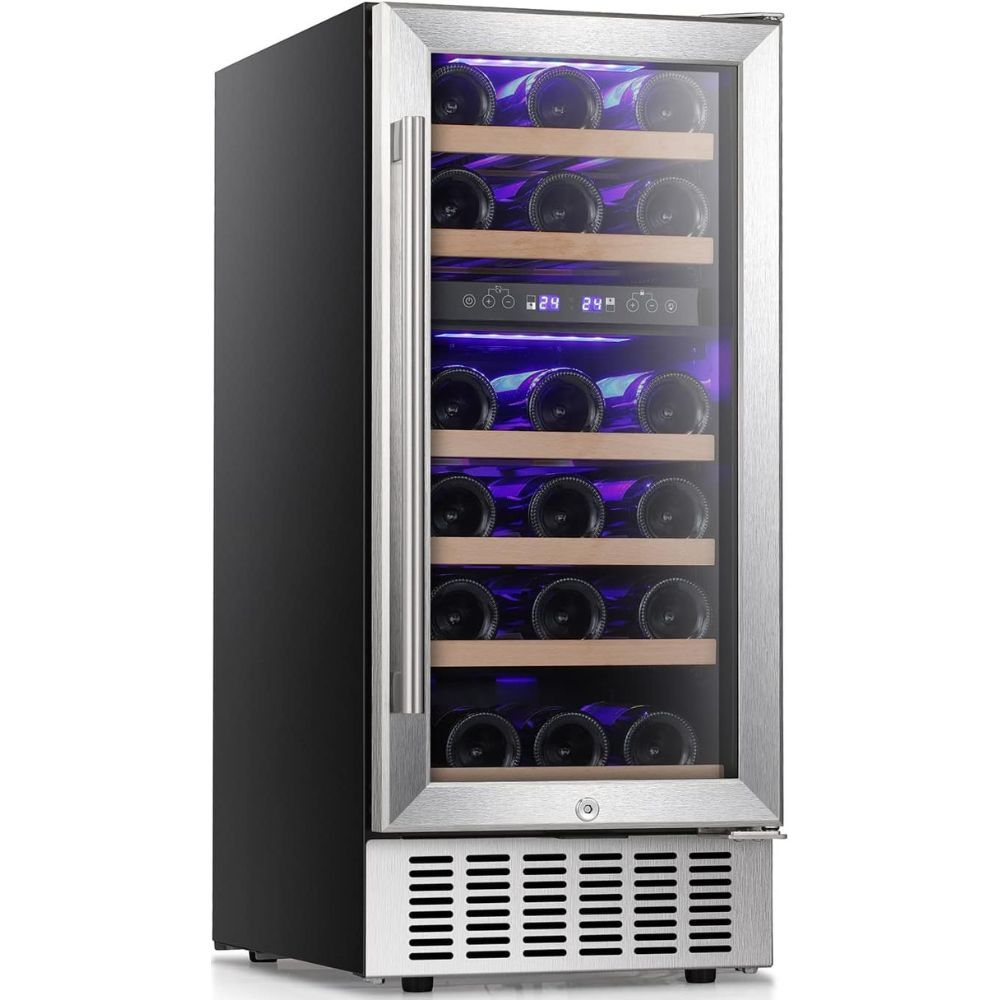 Best For Its Affordability
Check Price on Amazon
Why We Chose It
The Antarctic Star Wine Cooler is perfect for all wine lovers! It provides temperatures that are perfect for keeping your favorite wines chilled and ready for you to enjoy.
The digital display screen offers adjustable temperatures, and an active charcoal filtration system purifies the air in the cellar and keeps it odor free. Plus, its beech wood shelves and steel ball slide rail provide a strong, sturdy design that can hold up to 28 bottles.
What You Should Know
The Antarctic Star Wine Cooler is both affordable and efficient. Its low noise level means you won't be disturbed, even during sleep.
Plus, the dual-zone cooling system with a fan ensures that all your wines and beverages are kept at the ideal temperature.
This is the perfect wine cooler for those who appreciate quality and convenience. So why wait? Get the Antarctic Star Wine Cooler today!
Product Specs:
product size: 14.96 x 22.75 x 34.25 inches
Net weight: 88.2 pounds
Gross weight: 97 pounds
upper :41-54℉,lower :54-68℉
Net capacity: 85 L
Refrigerant: R600a
Factors to Consider When Choosing an Under Counter Wine Fridge
When choosing the best wine fridge for under a counter, several factors must be taken into consideration to find the right appliance for your needs.
This includes capacity and bottle size, cooling technology, whether it is single zone or dual zone operation, as well as noise level and vibrations from running.
To provide more details on each of these topics below are helpful tips for you to make a wise decision when selecting a countertop wine fridge.
One must know how much space there is in terms of total volume inside their chosen device before buying so bottles can fit comfortably within it.
This factor will depend on specific items like type/size (standard 750ml) of wines owned by potential buyers too.
Look at what kind of chilling system the unit has such as compressor-based versus thermoelectric since they deliver different levels of performance results depending on one's individual preferences which extend also.
Capacity and Bottle Size
When shopping for a wine fridge, consider both the bottle size and capacity before making your purchase. Despite advertised amounts, bottles such as Champagne may take up more room than smaller varieties like Pinot Noir or Burgundy.
It's suggested to look into a refrigerator that is twice what you believe would fit to allow space if needed later on as your collection grows larger.
By being mindful of these factors when selecting your ideal model, you can find one which provides plenty of storage for all types of wines within it!
Cooling Technology: Compressor vs. Thermoelectric
When deciding on a wine fridge, you'll want to take into account the cooling system that best fits your needs in terms of power, sound and shake.
Compressor fridges are more powerful, which is perfect for larger sizes or those requiring quick chilling. They can be louder and create vibrations.
On the other hand, thermoelectric systems offer quietness as well as less shaking making them ideal for placing inside living areas with limited space but might not possess the same level of freezing potential as compressor models.
Wine storage requires careful selection when it comes to choosing between these two types of refrigerators, considering all components so that it meets both efficiency standards while still keeping noise disruption low from vibration levels too.
Single Zone vs. Dual Zone
When selecting a wine fridge, you must decide between single-zone and dual-zone models.
Single zone fridges provide constant temperatures throughout the entire unit which are great for those interested in aging their wines, but may not be suitable to properly store different types of red and white wines as they require specific serving temperatures.
Dual zone options on the other hand can offer optimum results as this allows you to set two separate cooling zones: one that is perfect for storing ready-to-drink bottles at an optimal temp while also keeping some stored away for longer periods with necessary consistent conditions provided by such technology.
It all comes down to what type of use cases suits your drinking preferences best or how frequently do you plan to utilize each option separately, whatever is most convenient works just fine!
Noise and Vibration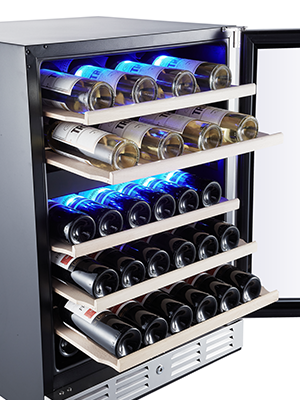 The noise and vibration emitted by a wine fridge are key elements to take into account when selecting one.
If the appliance is placed in an area like the kitchen or living room, loud sounds can create disruption. On top of that, too much shaking may cause accelerated aging of wines, which affects their flavour and quality adversely.
Thus it's critical to examine how noisy and vibrating a chosen model gets before purchasing it. Models generating less than 39 dBA should be favoured as they will protect your precious wine collection while keeping an environment pleasant at home.
Installation and Ventilation Tips for Under Counter Wine Fridges
Installing and ventilating an under counter wine fridge correctly is vital for it to function at its best. For both built-in and freestanding models, sufficient airflow, as well as clearance, needs to be guaranteed to make sure the appliance runs smoothly.
Below we are going to be going down what should be taken into account when preparing these kinds of wine fridges for use.
When installing a built-in countertop wine refrigerator, certain features need special attention: ventilation openings must not be blocked while ensuring that air can flow freely around the unit.
Also, keep away from direct sunlight since this will decrease performance levels significantly over time. On top of all that, always remember to leave enough space so you won't end up impairing airflow or damaging it.
Built-In vs. Freestanding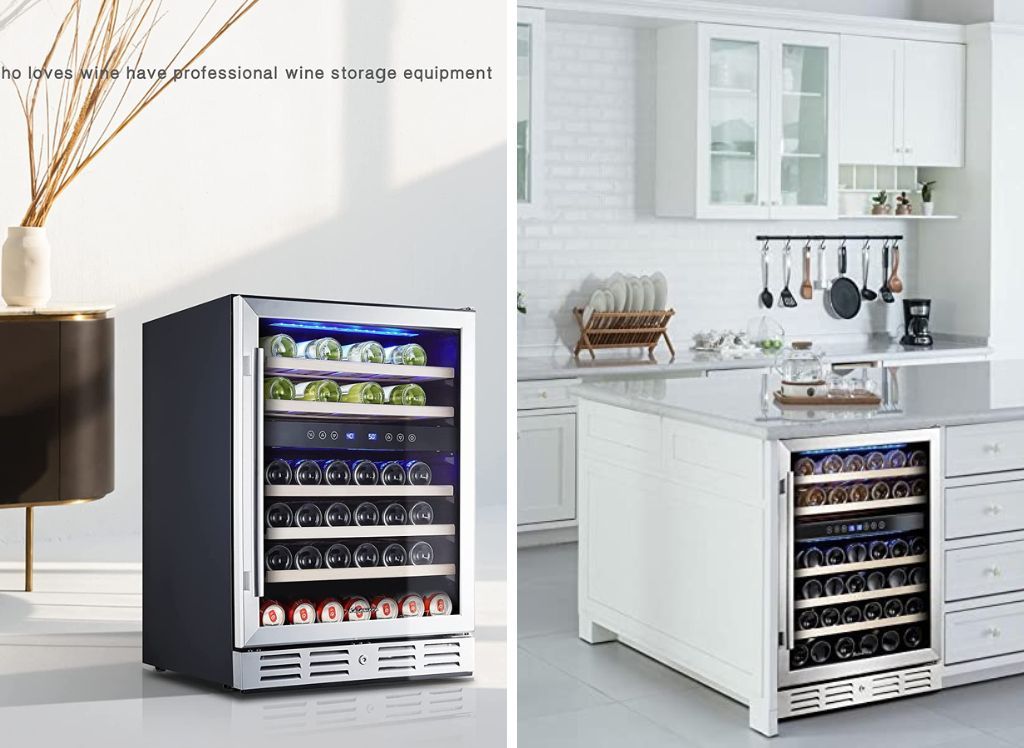 When deciding between a built-in or freestanding wine fridge, take into account factors such as cost, setup demands and the space available in your home.
Built-in units typically have to be installed by an expert due to ventilation requirements within kitchen cabinets and tend to come at higher price points than free-standing models. They create a neat aesthetic while storing away wines from your collection.
Freestanding fridges offer more flexibility when it comes to their location, but may require additional floor space compared with fitted types.
Ultimately both designs can provide you with stylish ways of protecting fine vintages without sacrificing taste or quality.
Proper Airflow and Clearance
Proper airflow and clearance are crucial factors in maintaining the efficiency and longevity of an under-the-counter wine fridge. Air circulation plays a vital role in temperature regulation, as it ensures that cool air is evenly distributed throughout the unit while expelling any excess heat generated by the system.
Clearance, on the other hand, is essential for providing enough space for air to flow freely around the unit, preventing critical issues such as compressor overheating, motor failure, and increased energy consumption that can occur if there is inadequate airflow.
If the compressor overheats or the motor fails due to poor airflow, it may lead to premature wear and tear on the wine fridge, significantly reducing its lifespan.
Moreover, insufficient airflow can result in increased energy consumption, leading to higher utility bills and a larger carbon footprint.
To prevent these issues, it's important to consider key design elements such as the right size and location for the wine fridge.
Ideally, the unit should be installed in a well-ventilated area with enough space around all sides to allow for proper air circulation.
Furthermore, all components of the wine fridge, including the compressor, condenser coils, and evaporator fan, must have enough space to function properly.
This not only prevents potential hazards such as fires but also ensures optimum performance from the product.
Maintaining proper airflow and clearance for an under-the-counter wine fridge is essential to avoid critical issues, reduce energy consumption, and ensure the unit operates at peak efficiency, keeping your prized wine collection in perfect condition.
Maintenance and Care for Your Under Counter Wine Fridge
It is essential to take proper care of your under counter wine fridge for it to run at its best. This entails cleaning the inside and outside, verifying that the temperature range settings are correct, and inspecting for any blockages or debris around the fan system.
We will provide tips on maintenance as well as give instructions on how to fix common problems with an under counter wine refrigerator.
Cleaning and Upkeep
The longevity of your under counter wine fridge depends on proper care and upkeep. Refer to the user manual for guidelines regarding cleaning frequency, as well as best practices.
A mild baking soda solution is usually recommended for external surfaces while the inside should be wiped down wth a damp cloth.
For periodic cleanings, it's important that you oil hinges and gaskets at least every three months to maintain an airtight seal around the door which also helps keep smooth operation intact.
Keeping up with these maintenance tasks can prevent damage or deterioration from occurring within your prized wine collection.
Regular cleaning and servicing are fundamental components when protecting all aspects of their appliance, this way its performance level will stay optimal over time no matter how many vintages come into play!
Troubleshooting Common Issues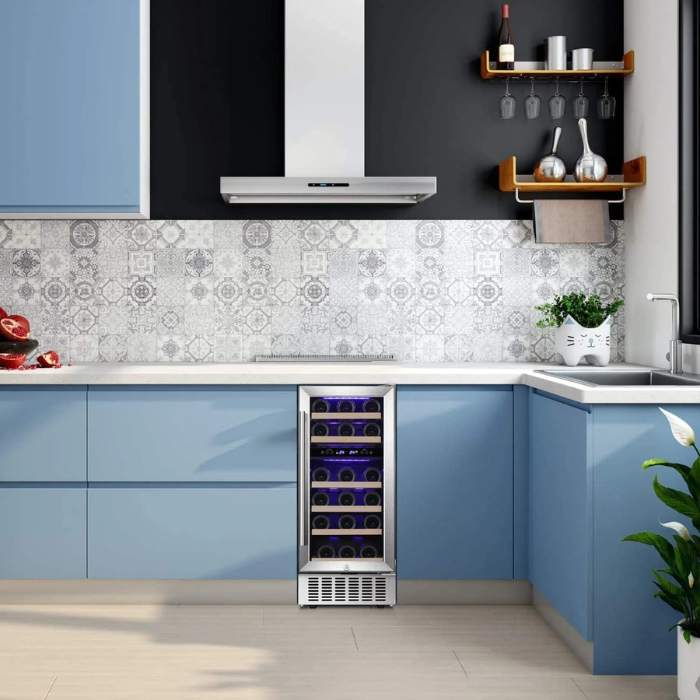 When it comes to wine fridges, temperature fluctuations, condensation and odors are some of the common issues you may encounter. To deal with this situation effectively, start by making sure that your temperature range settings are accurate.
If there is still an issue then check if the evaporator or fan has any obstructions which could be causing problems with performance.
You should also ensure proper door seals to prevent excessive condensation from occurring within your fridge and maintain appropriate humidity levels inside as well.
Cleaning up interior parts such as air filters can help eliminate odor build-up so maintaining a good quality for your valuable wine collection becomes easier over time.
By taking timely action towards rectifying these basic troubleshooting steps related to wine fridges you will be able to keep everything at peak condition thus maximizing its potential for many years ahead!
Additional Features to Look for in an Under Counter Wine Fridge
When looking for an under counter wine fridge, you must consider extra features that can improve your experience when storing wine. Such extras may include shelving arrangements, door design with UV protection and security/locking systems.
We'll look into each of these special elements so you have all the relevant information to make a wise choice regarding what type of countertop or refrigerator will be best suited for your needs.
Be sure to keep these key factors in mind when evaluating potential options: bottle shelves set-up, UV shielding on doors, locks & safety precautions – all combined should lead to selecting exactly what suits YOUR ideal 'wine storage' requirements!
Shelving Options
When purchasing a wine fridge, the shelving configuration is an integral factor to consider. Wooden shelves are typically preferred over metal due to being more gentle on labels and sturdier overall. Look for fridges with adjustable or pull-out shelves.
This gives you better access when organizing your collection of wines.
Be sure that not only the material but also the spacing of these compartments suits your storage needs in terms of appearance and functionality alike, keeping all essential aspects of your wine cellar and refrigerator selection process into account will ensure successful satisfaction with its use down the line.
Door Design and UV Protection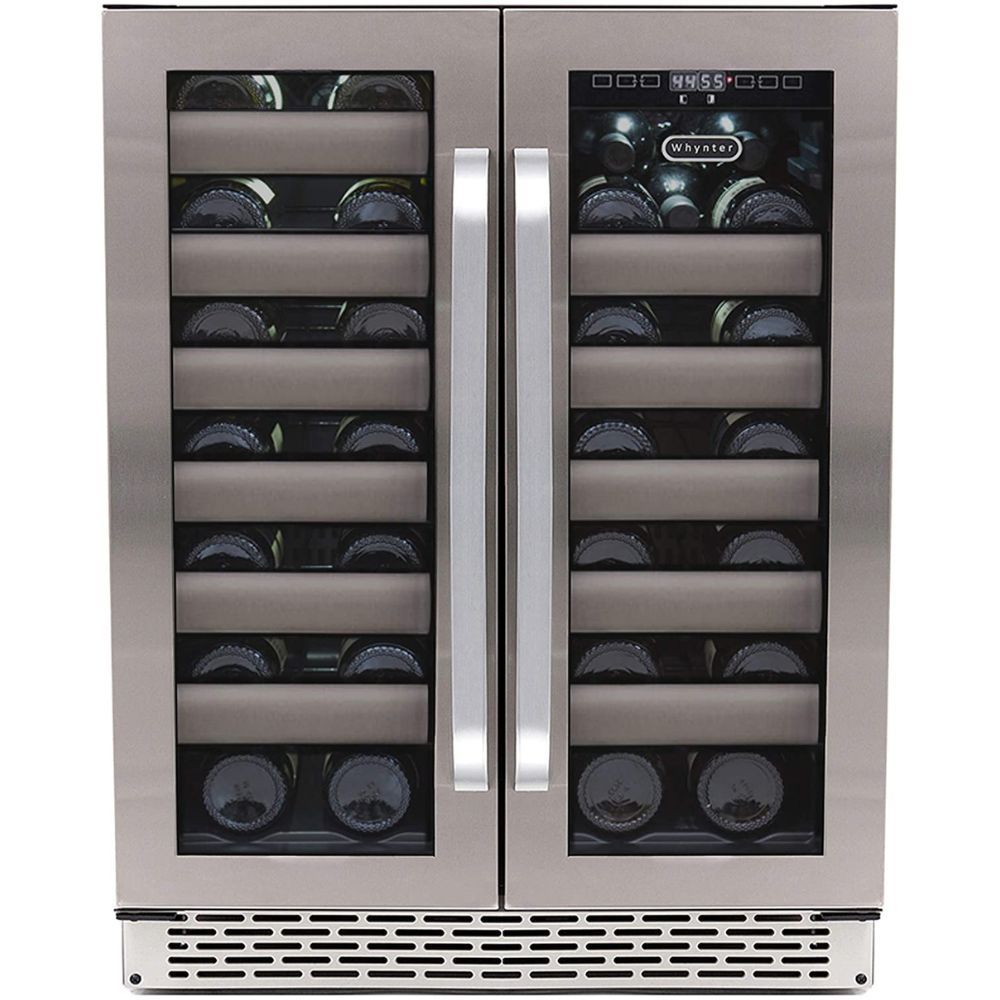 When choosing a wine fridge, two essential factors to consider are the door design and UV protection.
To preserve quality in flavor and aroma, multi-layered tempered glass with an ultraviolet coating is often preferred for insulation and shielding against damaging rays.
Reversible doors allow more freedom when installing or accessing from different angles. By evaluating both aspects properly you can ensure your investment into this type of appliance as well as maintain the integrity of your wine collection's contents over time.
Security and Locking Mechanisms
When selecting an under counter wine fridge, it's essential to consider what type of security and locking mechanisms are available.
This is especially true for those who have an extensive or valuable collection they wish to protect from unauthorized access.
Key locks, combination locks and digital solutions can all be effective deterrents against accidental entry by young children in the home.
The peace of mind that comes with having solid security features protecting your wines makes them worth considering when making this purchase decision, no matter how sentimental the stored wine bottles may be!
👉  Related Reads: How Cold Does a Wine Fridge Get, White Wine Temperature, Dual Zone vs Single Zone Wine Cooler, Red Wine Temperature, Wine Fridge Temperature, How to Drink Wine, Wine Fridge vs Wine Cooler, How to Tell if Wine is Bad, How to Serve Wine Properly, How to Decant Wine, Storing Wine at Home, How to Choose a Wine Fridge
The Best Under Counter Wine Cooler For You
If you're looking to invest in a quality wine fridge that fits beneath your counter, this comprehensive guide should give you everything needed to make an informed decision.
Capacity, cooling technology and extra features are key considerations when selecting the ideal under-counter model for preserving the taste of one's collection or just enjoying great wines as a serious wine enthusiast or casual drinker.
The right appliance can elevate any wine-drinking experience, so be sure not only to find something with all the necessary attributes but also at the perfect size for below-the-counter space too, cheers!
If you are looking for a smaller Wine Cooler, check out our blog post on our top picks for the Best Slim Wine Fridge.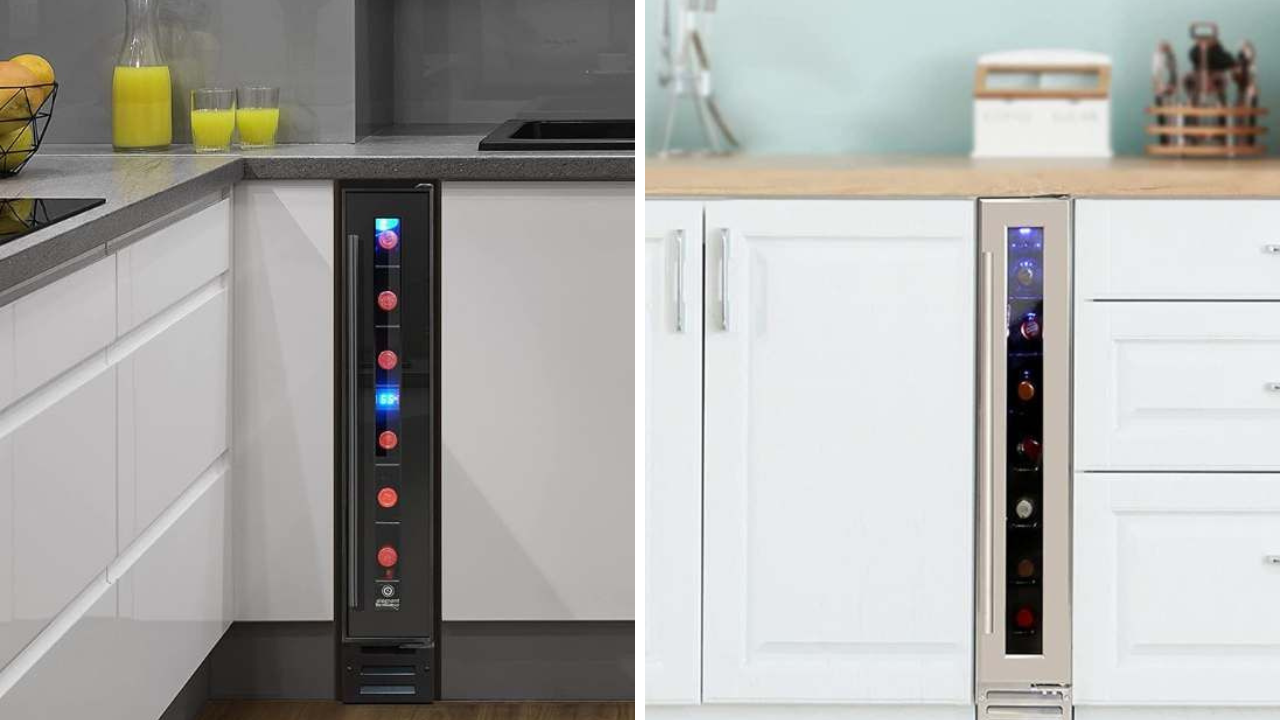 Or you might also be interested in our top picks for the Best Wine Fridge.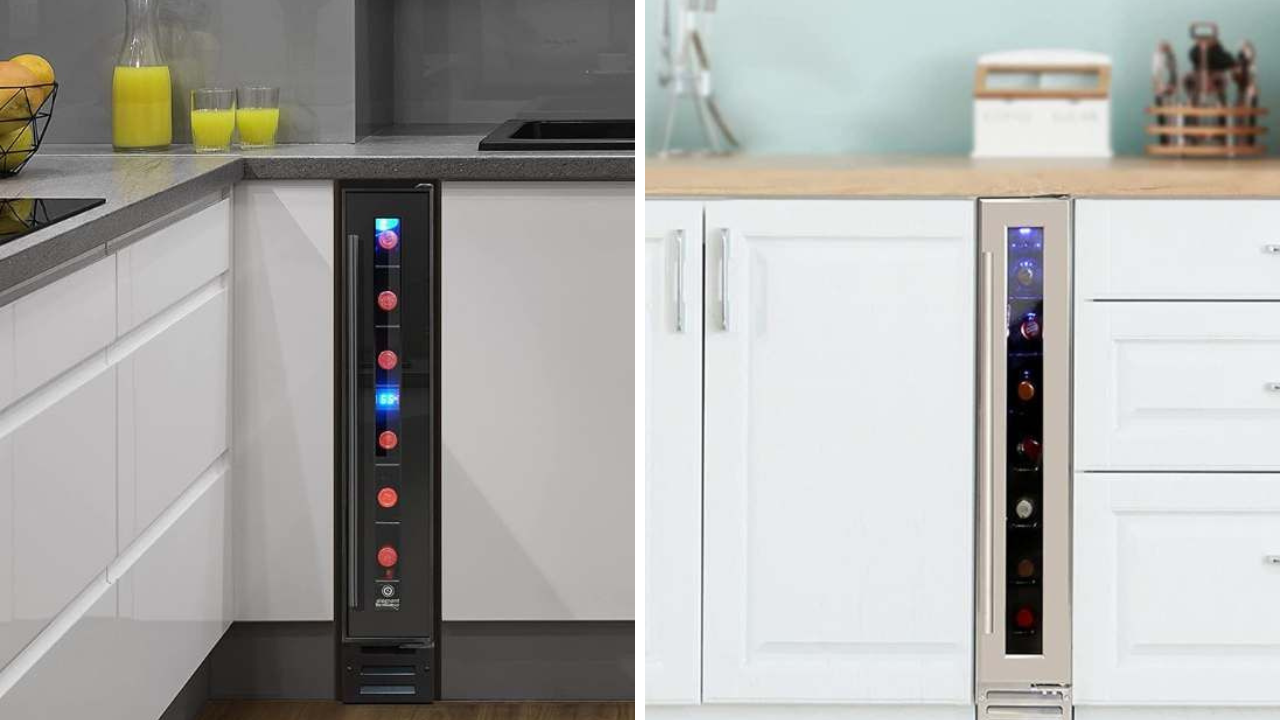 If you have a large wine collection then check out our article on the best large wine fridge.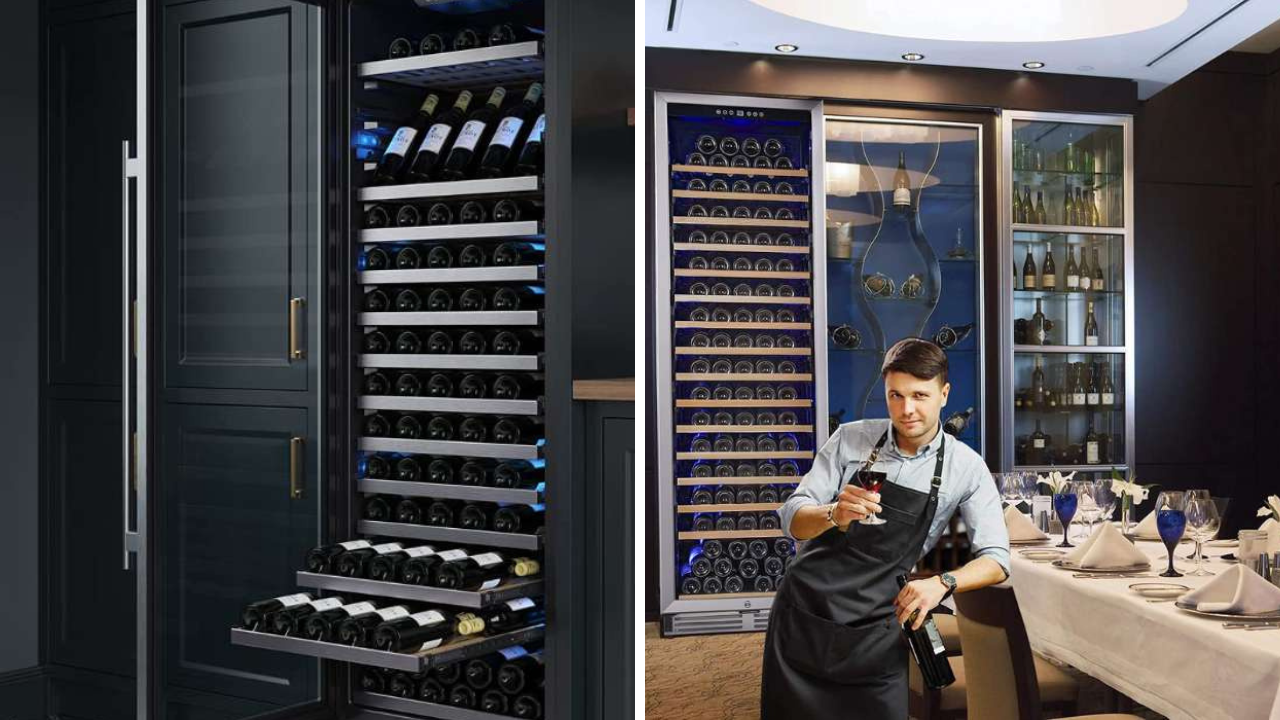 Frequently Asked Questions
Where to put a freestanding wine cooler?
When shopping for a freestanding wine cooler, there are multiple areas to consider placing it such as in the kitchen, bar area, dining room or outside patio. It is important to take into account features like compressor versus thermoelectric models and single zone wine cooler versus dual temperature zones units when looking at where you'd prefer to house your new appliance. Analyze if the selected spot offers an appropriate amount of space and adequate performance characteristics that match up with what's needed from your product.
How long are wine coolers good for?
When sealed and stored correctly, wine coolers can maintain their flavor for up to five years. The taste begins to deteriorate soon after opening. So it is best consumed quickly. By following these guidelines, you should be able to enjoy your purchase of a wine cooler over a three-five year period without issues.