Are you looking for a delicious and easy breakfast or brunch recipe that's packed with flavor and nutrition? Then a Mexican omelette is what you are looking for!
This versatile dish combines the classic omelette with traditional Mexican ingredients like peppers, onions, and cheese to create a satisfying and flavorful meal. And with a few simple modifications, you can easily adapt the recipe to suit different dietary needs and taste preferences.
In this article, we'll show you how to make a delicious Mexican omelette, share some secrets and suggestions to enhance the flavor, and provide variations for vegetarian, vegan, keto, and gluten-free diners. So grab your skillet and let's get cooking!
Mexican Omelette Recipe:
Ingredients:
3 eggs
2 tbsp. milk
1 tbsp. olive oil
¼ cup chopped onion
¼ cup chopped bell pepper
½ cup chopped tomatoes
1 jalapeno pepper (optional)
½ cup shredded cheddar cheese
Salt and black pepper to taste
Fresh cilantro leaves for garnish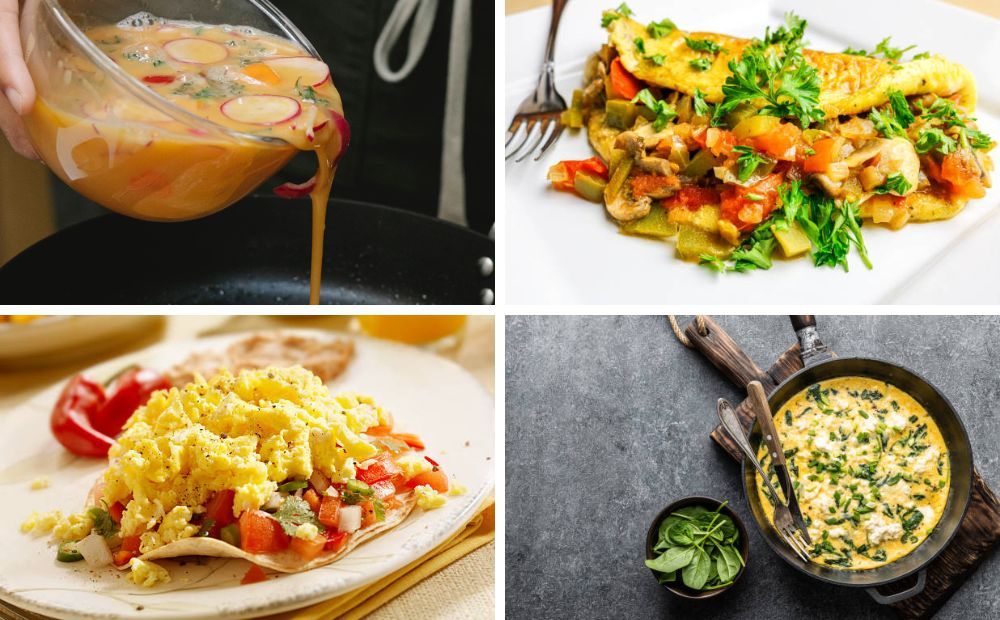 Instructions:
Crack the eggs into a mixing bowl and whisk them together with the milk. Season with salt and black pepper according to your taste.
Heat the olive oil in a non-stick skillet over medium heat. Add the onion and bell pepper and sauté for 2-3 minutes until they are slightly softened.
Add the chopped tomatoes and Jalapeno pepper to the skillet. Cook for an additional 2-3 minutes until the vegetables are well combined and the tomatoes are slightly softened.
Pour the egg mixture over the vegetables in the skillet. Use a spatula to spread the mixture evenly across the skillet.
Let the omelette cook for 2-3 minutes until the bottom is golden brown. Then sprinkle the shredded cheese on one half of the omelette.
Using the spatula, carefully fold the other half of the omelette over the cheese. Let the cheese melt for 1-2 minutes.
Slide the omelette onto a plate and garnish with fresh cilantro leaves.
Secrets and Suggestions
To make the omelette more flavorful, you can add some crumbled cooked chorizo or diced ham to the vegetable mixture.
Use a non-stick skillet to ensure that the omelette does not stick to the bottom of the pan.
To make the omelette fluffier, you can add a pinch of baking powder to the egg mixture before whisking.
For a spicier omelette, you can add more jalapeno pepper or sprinkle some red chili flakes over the cheese before folding.
When cooking the omelette, it's important to use low heat and let it cook slowly to prevent the bottom from burning and to allow the eggs to cook through properly. If you're having trouble flipping the omelette, you can use a large plate to help you. Place the plate over the skillet and carefully flip the omelette onto the plate. Then slide the omelette back into the skillet to cook the other side.
For a more filling meal, you can add some cooked black beans or refried beans to the omelette. Simply add them to the vegetable mixture before adding the egg mixture to the skillet.
For a healthier option, you can use egg whites instead of whole eggs and add more vegetables to the mixture, such as spinach or kale. You can also use a reduced-fat cheese to cut down on calories and fat.
To make the omelette more filling, you can serve it with some hash browns or toast on the side. And for a refreshing beverage, you can pair it with a fresh fruit smoothie or a cold glass of orange juice.
Variations:
Vegetarian: Skip the meat and add some diced avocado to the vegetable mixture for a creamy texture.
Vegan: Use a vegan egg substitute and vegan cheese to make the omelette plant-based. You can also add some tofu or tempeh for extra protein.
Keto: Use coconut milk instead of regular milk, and replace the tomatoes with diced zucchini or mushrooms. Use a keto-friendly cheese like goat cheese or feta instead of cheddar.
Gluten-free: This recipe is already gluten-free, but you can use a dairy-free cheese substitute if you are lactose intolerant.
Cooking Time and Serving Size
This recipe takes approximately 10-15 minutes to prepare and cook. It serves one person, but you can double or triple the ingredients to make more servings.
Plating and Presentation
To make the omelette more visually appealing, you can sprinkle some chopped tomatoes and cilantro leaves on top of the folded omelette. You can also serve it with a side of fresh salsa or guacamole for added flavor.
To further enhance the presentation, you can use a round cookie cutter to cut the omelette into a perfect circle and place it on a rectangular plate. You can then add some sliced avocado, a sprinkle of paprika, and some cherry tomatoes on the side to create a colorful and eye-catching presentation.
Another option is to serve the omelette as a breakfast burrito by wrapping it in a warm tortilla and topping it with some salsa and sour cream. This variation is perfect for a quick breakfast on-the-go.
Overall, the Mexican omelette is a versatile and flavorful dish that's perfect for any breakfast or brunch. With its combination of vegetables, cheese, and eggs, it's a satisfying and nutritious meal that's easy to make and customizable to suit different dietary needs and taste preferences.
Watch Red or Green's video for more guidance on how to make a delicious Mexican omelette.
Looking for the perfect omelette pan to make that Mexican omelette?  Check out our top picks!