Do you ever find yourself struggling to pace out the perfect cut of sushi? Struggling to match the precision of your favorite sushi chef? It's not you, it's your knife.
The best sushi knife is one that is crafted for slicing raw fish with detail and accuracy. The blade should be long, thin, and sharp.
Whether you're a sushi-making pro or just starting, your sushi game depends heavily on your tools. A sushi knife is the backbone of every sushi roll you'll make, and picking the right kind of knife is an essential step in creating your own delicious rolls.
From sharp blades to sturdy handles, our guide will take you through the best sushi knives on the market. Whether you're an aspiring home chef or a professional sushi maker, you won't want to miss out on the valuable insight that our guide provides.
So, grab a seat and let's get sharp – as we dive into the best sushi knives available to elevate your sushi-making experience to a legendary level.
How We Choose The Best For You
We at IncredibleRatings understand how difficult it can be to find the right product, especially when there are so many options on the market.
With so many products available it can be overwhelming to try and figure out which one is the best fit for you and your budget.
Our team has done all the work for you, and read through thousands of consumer reviews who have given feedback on products after personally testing them.
So, after doing extensive research and with no review left unchecked, we bring you our list of the best sushi knives.
Read on to find out which Japanese sushi knife works for you, as well as a comprehensive buying guide to give you the best information.
Each product below was independently selected by our editors. Some may have been sent as samples for us to fiddle with, but all opinions in this article are our own. IncredibleRatings is a participant in the Amazon Services LLC Associates Program, an affiliate program that allows us to earn money linking to Amazon.com and associated websites. When you click on or make a purchase through an affiliate link on IncredibleRatings, we might get a small commission at no additional cost to you.
What Is A Sushi Knife?
A sushi knife is a specialized type of bladed kitchen tool that is specifically designed to make ideal cuts for preparing sushi dishes.
This sturdy, high-quality knife typically has a somewhat longer and thinner blade than traditional Japanese knives which makes it ideal for finely slicing fish, peel off skin from fish or produce, and arranging them in an aesthetically pleasing way when plating.
Although the original design was crafted in Japan centuries ago, modern versions often add unique materials to enhance comfort and performance.
Whether you are a professional chef or just starting out in sushi making, owning a quality sushi knife will ensure that you can efficiently slice large pieces of ingredients with ease.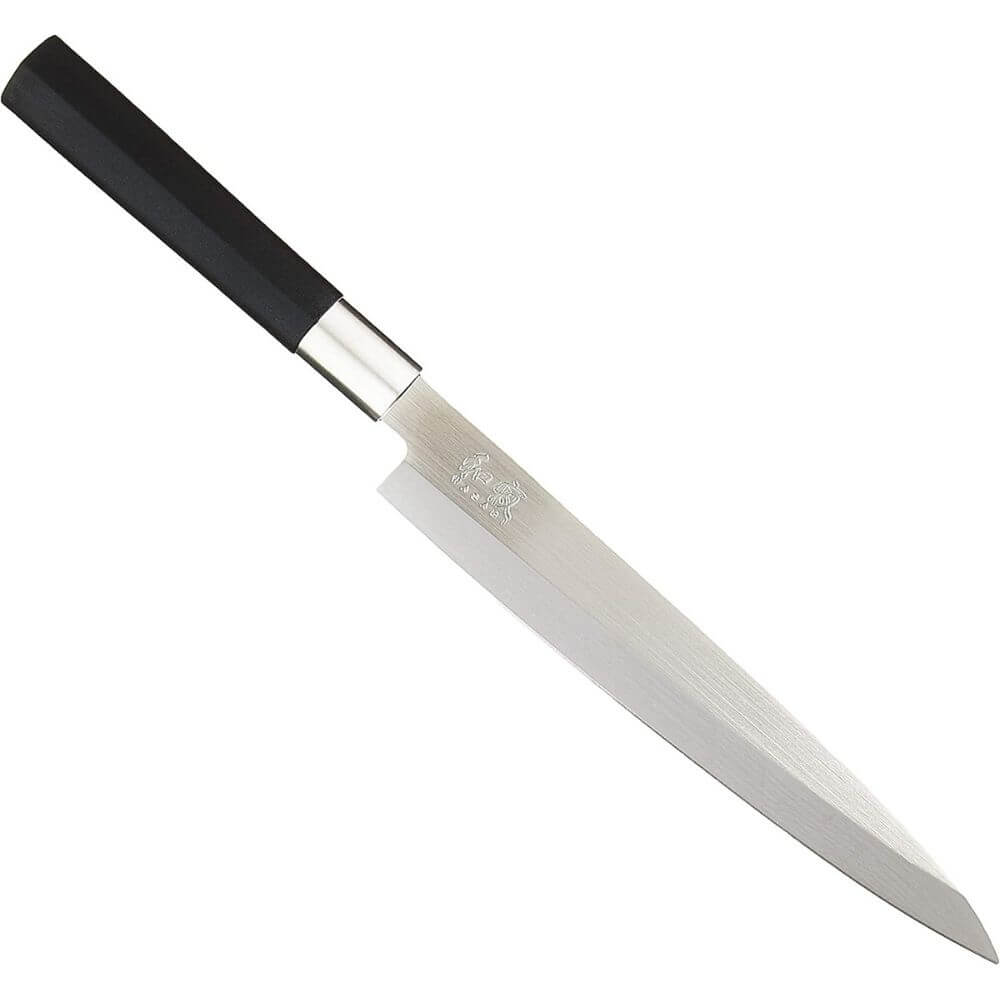 Best For Beginners
Kai Wasabi Black Yanagiba Knife 8 1/4 Inch
Check Price on Amazon
Why We Chose It
Whether you're a professional sushi chef or just like enjoying delicious treats while relaxing at home, the Kai Wasabi Black Yanagiba Knife is an essential tool for preparing perfect cuts of sushi or sashimi.
This high-quality and beginner friendly cooking knife is specially designed with a long, thin blade that makes it the ideal tool for creating the perfect slices of raw fish.
Crafted from durable high carbon stainless steel, this knife won't corrode and wears well, plus it's easy to sharpen and provides long-lasting edge retention.
The traditional Japanese-style handle with its d-shaped form is ideal for anyone looking for an easy-to-maneuver handle.
Crafted from polypropylene, it offers durability in addition to a comfortable grip that won't cause hand fatigue.
It's also lightweight, making it suitable for all tasks, big and small.
Plus, the high-grade plastic means it won't chip, crack or fade over time.
Providing superior comfort during use, you'll be reaching for this handle again and again.
All you need to do is place the back of the blade on the fish and pull—the weight of the blade will cut through easily.
Get your own classic Japanese culinary tool today so you can enjoy restaurant-level sushi any time!
What You Should Know
Founded in Seki city, the birthplace of Japan's renowned knife-making tradition, the Kai name has been synonymous with quality for over 110 years.
Kai is committed to providing customers all around the globe with high-quality cutlery and cutlery accessories as well as other fine products.
This commitment involves uncompromising attention to craftsmanship and detail at every stage of production. As a result, customers can be assured that all Kai products are built to last and offer outstanding value for money.
With its illustrious heritage, cutting-edge techniques and ongoing innovation, Kai embodies the ideal of contemporary Japanese excellence.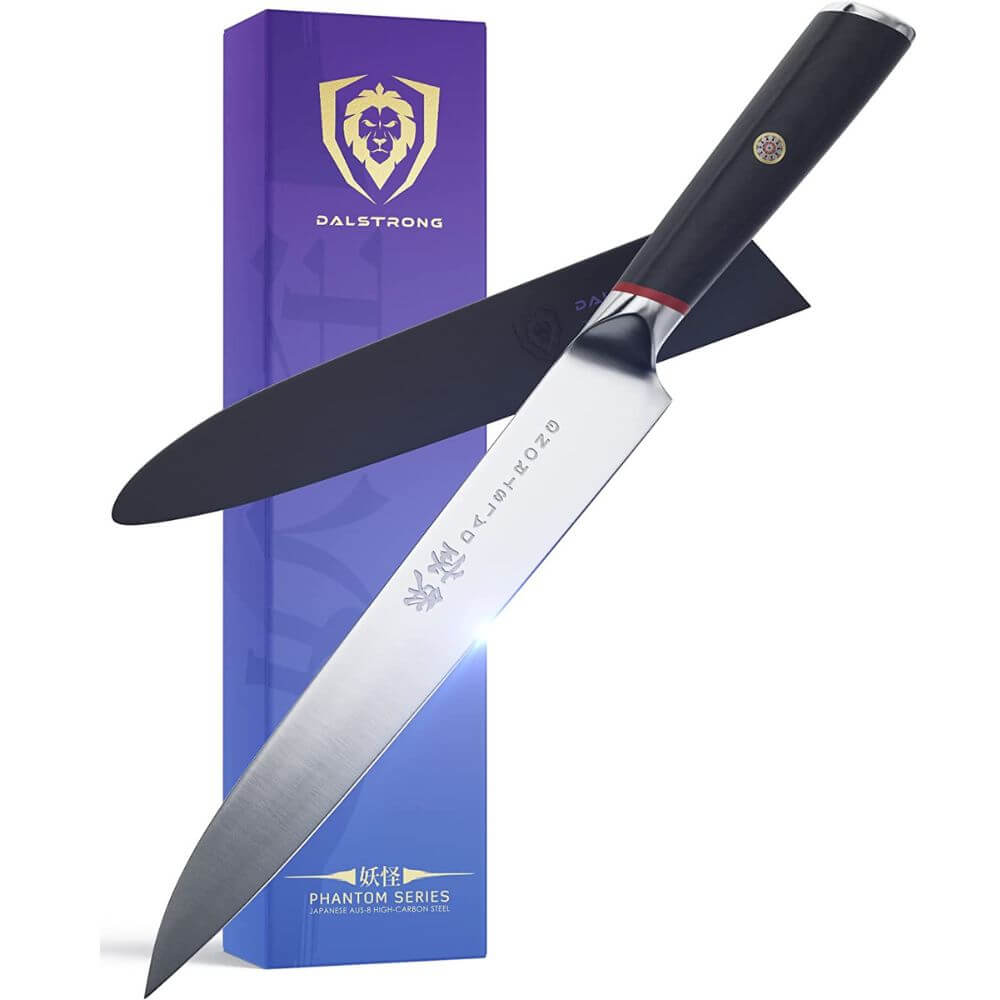 Best Overall
Dalstrong Yanagiba Sushi Knife - 9.5 inch - Phantom Series
Check Price on Amazon
Why We Chose It
Introducing the Dalstrong Yanagiba Sushi Knife, thoughtfully crafted with elegance, balance, power and performance in mind.
Delivering razor-sharp cuts thanks to its precision forging using a single piece of high-carbon Japanese AUS-8 steel, it is sure to become your go-to in the kitchen.
Its full tang allows for maximum strength which can flip through ingredients with ease.
Its traditional Japanese D-shaped handle has been expertly engineered to fit perfectly into your hand while cutting so you have no worry when creating delicious sushi or sashimi dishes.
All this without having to compromise on style; this knife's beautiful design is sure to be the centrepiece of any kitchen.
For a statement in refinement and performance, look no further than the Dalstrong yanagiba sushi knife.
What You Should Know
Dalstrong brings exceptional quality and performance to your daily kitchen tasks.
Backed by their secure trust, customers have the added assurance of a 100% satisfaction or money back guarantee; allowing them to shop confidently, risk-free.
Not only does this extend to consumer contentment, but also ensures that their products recommendable with a lifetime warranty against defects.
Dedicated Dalstrong customer service remains available when needed, offering reliable responses in a timely manner.
Add to this the attractive product packaging they provide and it's not hard to see why more chefs worldwide are trusting and loving 'The Dalstrong Difference'.
Their cutting-edge technology allows you--the modern home cook--to wield powerful potential when slicing food items: now you can slice with power provided by Dalstrong!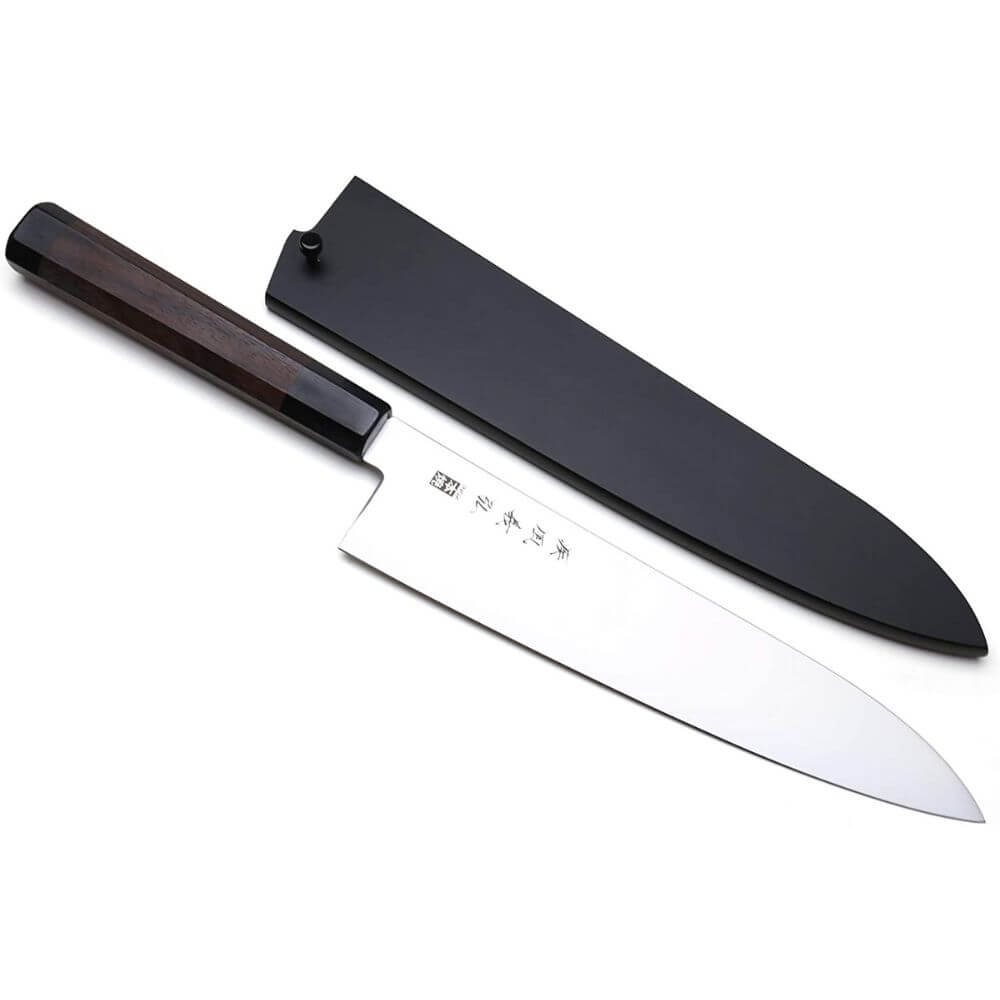 Best Versatile
Yoshihiro Inox Honyaki Gyuto Chef knife - 10.5 Inch (With Nuri Saya Cover)
Check Price on Amazon
Why We Chose It
If you're looking for the best versatile chef's knife, then look no further – you can now create meals worthy of a five-star restaurant with the Yoshihiro Inox Honyaki Gyuto chef's knife.
This handmade Japanese multipurpose chef's knife is one of the finest pieces of craftsmanship from Japan, perfect for dicing, slicing, chopping, and more.
The blade itself is crafted from top-quality Japanese stainless steel which offers superior sharpness and corrosion resistance – cutting through foods with ease while minimizing any damage to the produce or items being cut.
To make cutting even better, it features a traditional Japanese "wa" handle made from rosewood and buffalo horn that is perfectly balanced in your hands as you work.
With its impressive combination of beauty and functionality, this knife allows you to easily take on any task in the kitchen with utmost precision!
Let this versatile knife help you unlock your creativity in the kitchen today!
What You Should Know
Quality craftsmanship is at the heart of all Yoshihiro knives, which is why they come with a limited lifetime warranty.
To ensure the best performance from your knife, it's important to follow maintainenance guidelines and use only the best sharpening tools.
Yoshihiro Cutlery store offers professional Japanese knife sharpening services using premium quality Japanese water stones.
These specialized stones are vital for proper knife maintenance and upkeep, since they have special abrasive properties that help sharpen and hone without damaging the blade's edge.
With a little care and attention, your Yoshihiro knife will remain reliable for years to come!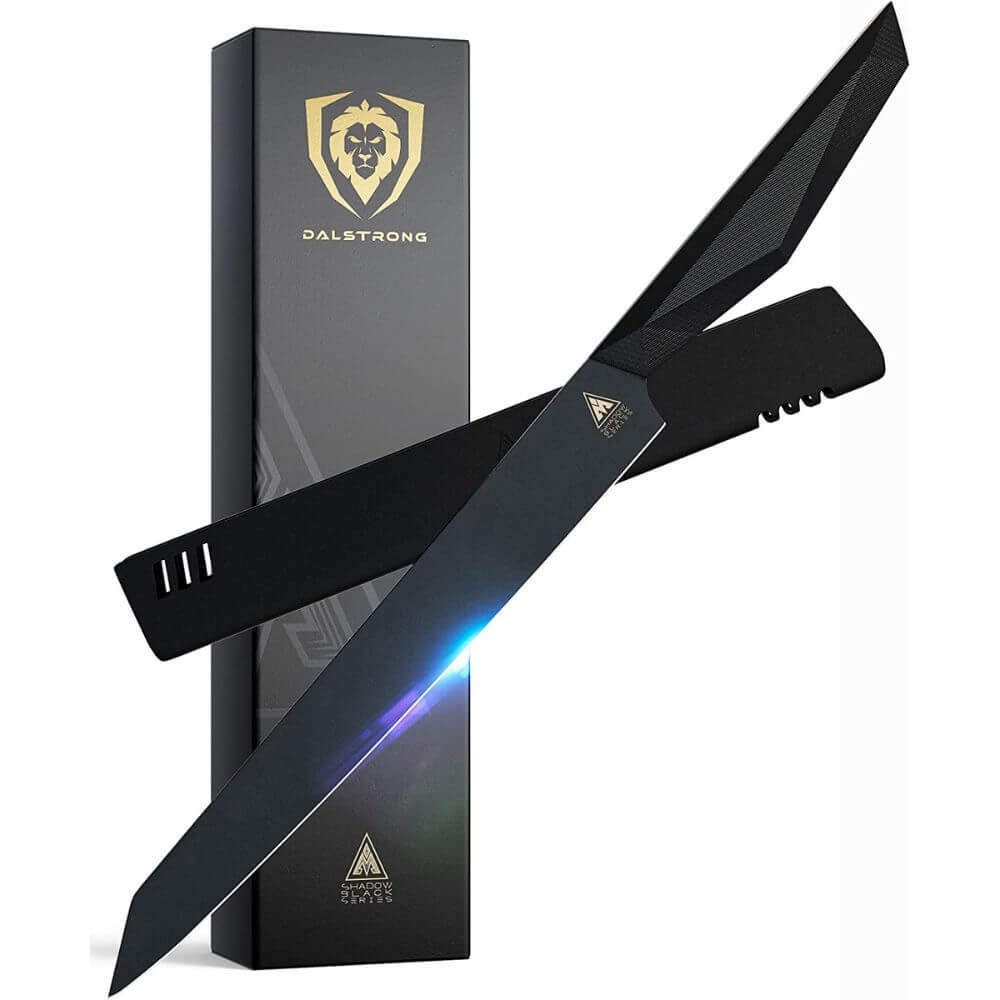 Best For Left Handers
Dalstrong Yanagiba Sushi Knife - 10.5 inch - Shadow Black Series
Check Price on Amazon
Why We Chose It
Transform your kitchen into a master chef's paradise with the Dalstrong Yanagiba Sushi Knife from the Shadow Black Series!
This knife is designed to deliver sleek and muscular performance that looks just as cool as it performs.
Crafted from high-carbon steel and coated with titanium nitride for extra protection, this knife is super sharp and fully tang to ensure unmatched control, maneuverability and accuracy.
Its stylish ambidextrous resin handle offers comfortable, ergonomic cutting experience every time.
So if you're ready to become a master in the kitchen, up your style game with the Dalstrong Yanagiba Sushi Knife!
Get yours today – whether you're an amateur or a professional chef, you'll love the gorgeous look and unbeatable performance of this one of a kind culinary tool!
What You Should Know
Shopping for Japanese knives can be an intimidating experience with seemingly countless options to choose from.
Thankfully, Dalstrong simplifies that process by providing a quality yet affordable option backed by their Trust program.
With the Rocksolid 100% Satisfaction or Money Back Guarantee and Lifetime Warranty, one can shop worry-free knowing they are backed in full by Dalstrong's years of experience in the industry and renowned customer service team.
Over 250,000 chefs around the world trust 'The Dalstrong Difference' because of these simple guarantees and many more reasons stemming from its exceptional quality and craftsmanship.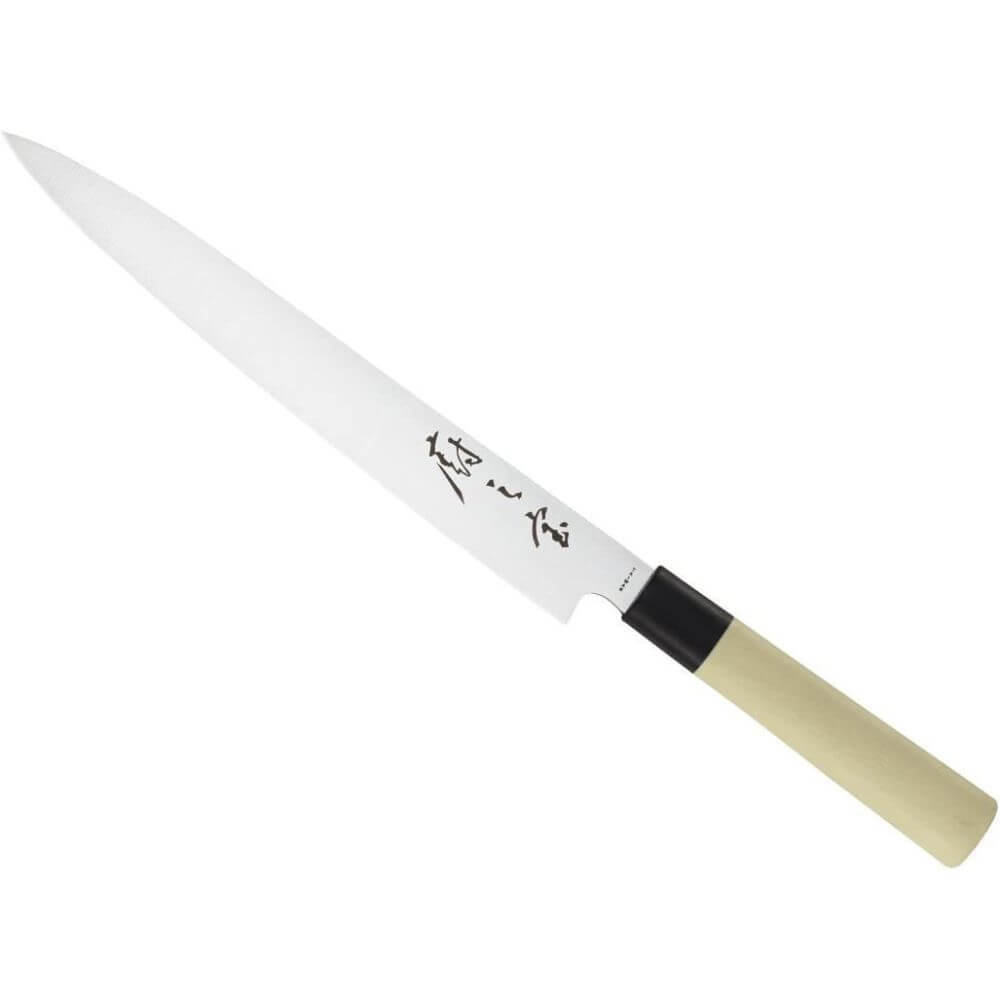 Best Budget
Mercer Culinary Asian Collection Yanagi Sashimi Knife - 10 Inch
Check Price on Amazon
Why We Chose It
Welcome to the Mercer Culinary Asian Collection Sashimi Knife.
This 10-inch sushi knife, made from German stainless steel with a rust-resistant coating and single bevel edge, is the perfect way to slice through delicious sashimi while keeping your wallet full.
Featuring a classic wooden handle that feels as good in your hand as it looks on your countertop, this knife won't let you down.
And the best part is that you can enjoy restaurant-grade cutting experience without a hefty price tag!
So don't wait any longer – improve your kitchen skills and equip yourself with the Mercer Culinary Asian Collection Sashimi Knife today!
What You Should Know
Experience the precision of Japanese craftsmanship with Mercer Culinary's Asian Collection.
High carbon German steel is sure to deliver remarkable results with each use, while your choice of handles make these knives both stylish and practical.
Whether you choose traditional wood or slip-resistant Santoprene for the handle, each product within this collection is engineered for optimal performance.
With experience spanning over 20 years, the team at Mercer Culinary are dedicated to providing a knife that combines quality and reliability.
Best For Deep Pockets
Yoshihiro-Shiroko High Carbon Sushi Knife
Check Price on Amazon
Why We Chose It
Introducing the exquisite Yoshihiro-Shiroko high carbon sushi knife!
This top-notch traditional Japanese knife is handcrafted by craftsmen in Japan and is now available to you.
Forged from high-carbon white steel, this knife boasts excellent sharpness and edge retention.
The ergonomic, lightweight Shitan rosewood handle gives you superior control and comfort while slicing through your delicious ingredients.
The flowing blade of Yoshihiro-Shiroko sushi knife was specially designed for slicing thin slices of fish for sushi and sashimi, making it a powerful tool for many home and professional chefs.
Enjoy long uninterrupted strokes that delicately preserve the freshness of your ingredients with each slice.
It's no surprise that such a high-quality Japanese knife carries a steep price tag.
However, buying quality once offers savings in the long run; not to mention the gorgeous presentation that comes with each cut!
Treat yourself to exquisite precision with Yoshihiro-Shiroko sushi knife today!
What You Should Know
A Japanese handcrafted knife from Yoshihiro is a thing of beauty.
Every blade is uniquely forged by a master craftsman in an age-old manner, resulting in a slight unevenness and a fine scratch-like finish on its surface - both signs of having been made by the hands of an experienced artisan.
This traditional technique gives each knife its own distinctive personality, and it's sure to become both a treasured keepsake and a highly valued tool for any adventurous chef.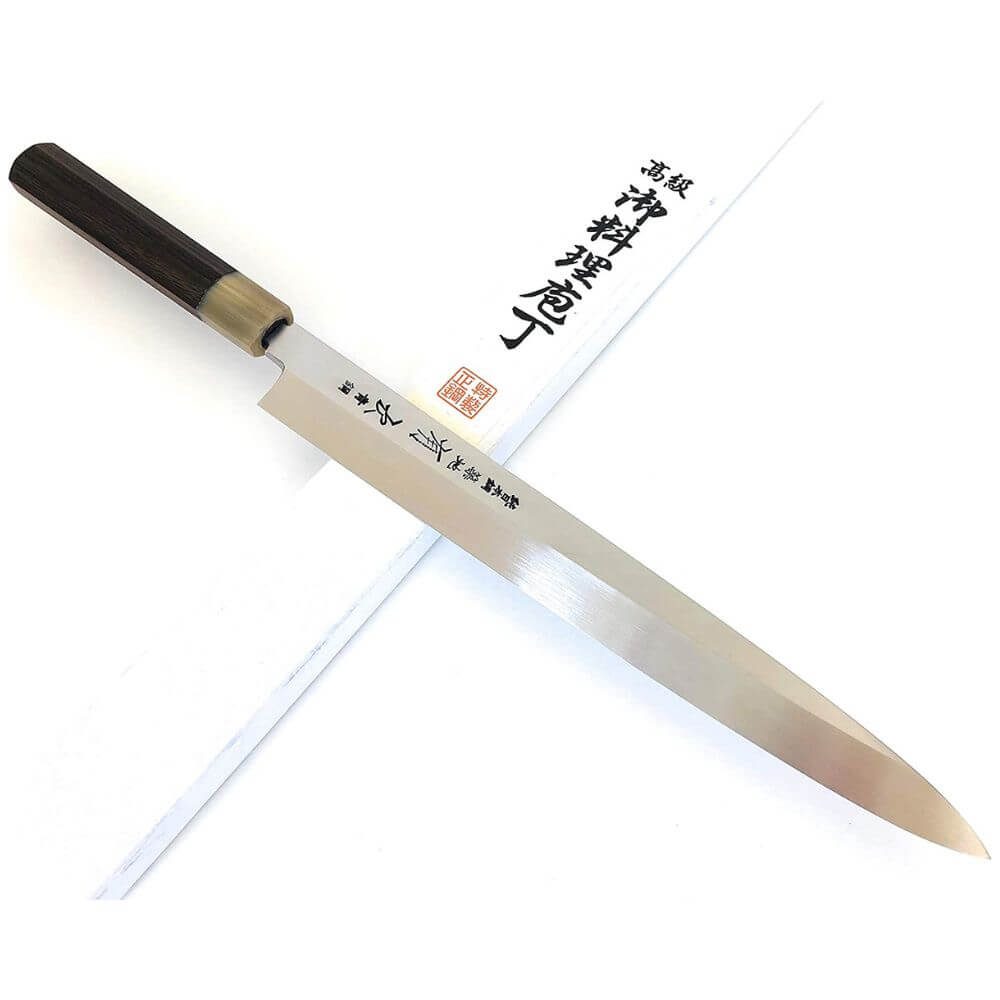 Best For REALLY Deep Pockets
Japanese Chef's Knife Aritsugu Blue Steel Honyaki Yanagi 14.17 Inch (Engraved Name)
Check Price on Amazon
Why We Chose It
Get ready to take your cooking to the next level with Aritsugu's Japanese Chef's Knife!
This ultra-premium, Honyaki Yanagi Knife is made for those who enjoy preparing sashimi and taking their dishes to a new level of precision.
Using traditional Japanese samurai sword techniques, this knife is created out of Blue Steel #2 and stainless steel, giving it a lasting toughness and sharpness.
You'll love how easy it is to use this knife! It's thin and long design give it maximum maneuverability when making delicate diagonal cuts, so you can arrange your ingredients any way you like without altering their shape or taste.
Ready to get slicing?
What You Should Know
Aritsugu has been creating Japanese swords that are renowned for being sharp and hard-wearing since 1560. Dedicated to the Japanese emperor, these coveted Japanese knives have earned a significant place in history.
But what is perhaps less well known is their legacy as the go to kitchen knives for many professional chefs across the globe.
A sharp blade combined with top-notch technique makes it easier to neatly cut ingredients in a way that preserves taste and texture; something essential when aiming to create truly creative dishes.
As a result of this, Aritsugu's widespread popularity among those working in professional kitchens reveals a reverence for Japanese craftsmanship and an appreciation of good quality blades that stands the test of time.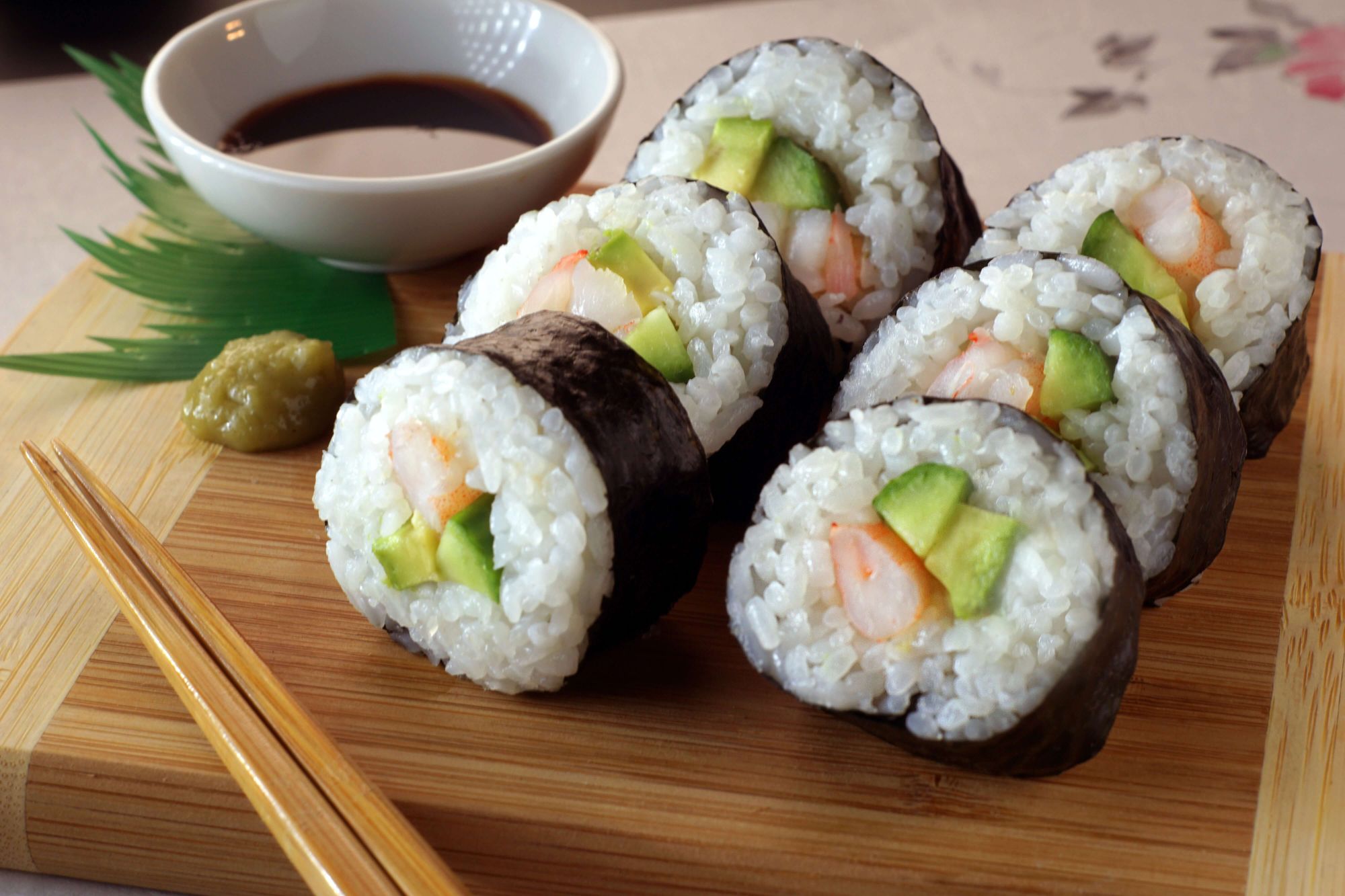 Best Sushi Knife Buyer's Guide
Are you in the market for a good quality sushi knife?
You need one that is sharp enough to slice through fish but also comfortable and well balanced.
Purchasing the correct sushi knife for your needs can be overwhelming since there are so many types of knives available.
Here, we explain how to identify the best sushi knife for you, from size and shape to material and handle type.
Read on to help make sure your next purchase will satisfy both your cutting requirements and aesthetic desires!
Blade Material
Have you ever been in the market for a quality knife?
If so, you've likely come across three main materials – stainless steel, high carbon steel, and composite steel.
High carbon steel will provide sharper cuts with more durability, however it is important to note that this type of blade won't hold its edge as long or be as resistant against rusting like stainless steel- making regular sharpening sessions essential!
Composite steel is a great choice for those looking for knives that can hold up against the elements and stay sharper than stainless steel.
While it does come with its own set of perks, this type of knife may not fit everyone's budget as it tends to be pricier than other options available.
After each use make sure to give your sushi knives some TLC by washing them thoroughly and drying completely.
Dishwashers are no match for these delicate tools; they can only cause serious damage!
To wrap up good care practices: if not using immediately applying oil on the blades should do wonders in fighting off corrosion over time.
Blade Length
If you want your fish to look as artisanal and artful as the sushi chef at a Japanese restaurant, then opt for an impressively long sashimi knife.
After all, it's not just about length but also how well-executed each slice is!
For best presentation (and maximum satisfaction!), having a longer blade lets you accomplish one smooth cut—no sawing motions necessary.
Fortunately, it's easy to find a sashimi knife that suits your needs –just look for one between 7 and 12 inches (180mm - 300mm).
Tang
European knives used to be the standard when it came to quality and balance; full tang was key.
But Japanese knife makers shattered that notion with part-tang blades that still performed just as well, or even better! Nowadays though, don't let yourself get caught up in a battle of 'full vs partial' - make sure you pay attention not only to what type of tang your blade has but also its actual performance for durability and balance!
Handle
Looking for the perfect sashimi knife can seem daunting, but you won't have to look far.
Most Japanese knives feature comfortable handles with rounded corners - think of a D or hexagon shape!
It's ideal if your planning on prepping lots of sushi over long periods; though unfortunately it's not so great for us lefties as there are fewer models available specially made just for us.
There is hope however as some brands offer ambidextrous options too!
Bevel
If you're looking for a sharp edge to get the job done, it's important to know your bevels.
A single-bevel knife means one side is honed and ground extra sharp while the other remains flat.
This type of blade allows for less pressure when slicing—making them ideal for sushi making!
Double bevel blades also exist which are even on both sides; however, most chefs rely on single bevel knives due their cleaner cut potential with minimal effort required.
Machi
Have you ever wondered why some sushi chefs don't have a machi on their blade?
The machi is the tiny gap between the handle and blade that provides users with clearance while cutting - but it comes down to personal preference!
Whether one opts for extra safety or goes without, there's no wrong choice.
Care And Maintenance
When it comes to Japanese sushi knives, you have two choices – classic carbon steel or modern stainless.
While the former requires more maintenance like oiling and gentle handling between cuts, a high-carbon stainless blade is much less of a hassle; simply make sure that your knife stays dry and stored safely.
If you really want to get serious about cooking with style though, learning how to sharpen your own blades will keep them razor sharp for perfect slices every time!
Alternatively, you can take your Japanese knives to a professional sharpener every three months-much more often than you would with other knives, but absolutely necessary for sushi creation.
The Most Common Parts Of A Japanese Sushi Knife
Sushi knives are a specialized tool crafted with great care and precision to ensure that every cut is perfect!
There's more than meets the eye when looking at these beautiful blades - each part has an important role.
The handle offers grip, while the kireha or cutting edge does all of the slicing.
Nearby you'll find its pointy companion, kissaki or tip — this gives sushi chefs extra control in their delicate cuts.
And no blade would be complete without mune (the spine) which provides balance & stability for your index finger as well as ago (the chin/heel), located near the knife's thickest section close to where it snugly fits into your hand just right!
The Difference Between a Sushi and Sashimi Knife
Sushi and sashimi knives are essential kitchen tools for the skilled sushi chef.
While they can look similar, there is a difference in their design and purpose.
Japanese sushi knives tend to have a single-edged blade that is broader and thicker than sashimi knives.
This makes them great for slicing through denser ingredients like fish bones or vegetables.
On the other hand, sashimi knives usually have a thin double-edged blade that can more easily cut slim slivers of raw fish.
Additionally, sashimi knives often come with decorative handles that embody centuries of culinary craftsmanship, while sushi knives tend to have simpler designs with practicality in mind.
In short, it's important to know the difference between these two blades if you want to make sure your sushi dishes are prepared perfectly!
Types of Sushi Knives
Sushi knives come in many different shapes and sizes, designed to serve their specific purpose when it comes to slicing through fish, rice, and other ingredients used in making sushi.
Some of the most common types of Japanese sushi knives include: the usuba bocho, which is best for making clean cuts on thin slices; the yanagiba is a long blade used mainly for cutting sashimi style slices; the takohiki bocho features a slightly curved tip that makes it useful for cutting delicate items like an omelette or thick-skinned fish; and the deba bocho is ideal for dealing with tougher fish due to its thicker blade.
When selecting a knife, it is important to consider not only its intended use but also how comfortable you are using it, as this will ensure you get the best performance out of your chosen tool.
Look for blades made from high carbon steel as these will maintain sharpness for longer periods than stainless steel blades and also offer more precision when slicing delicate items.
The handle material should feel secure in your hand and provide enough grip so you can keep control over whatever your slicing at all times.
Additionally, be sure to look after your knife by regularly sharpening it and storing it properly when not in use.
This will ensure your investment stays in good shape for years to come.
Overall, deciding on a sushi knife depends largely on the type of sushi being prepared and personal preference.
Most Common Type of Sushi Knife
The most common type of sushi knife to use at home or for professional chefs is the yanagiba.
This long, thin blade is perfect for slicing sashimi and making precise cuts due to its sharpness and curved tip.
It also has a double beveled edge, which makes it easier to sharpen and maintain than single-beveled blades.
For those just starting out in sushi making, this is a great option as it offers maximum versatility when creating dishes.
Best Sushi Knife FAQ's
What is the best sushi knife?
The best sushi knife is typically made from high-carbon steel and has an extremely sharp edge. It should have a curved edge that makes it easy to cut thin slices of sushi.
Is there one type of knife that is best for sushi?
Not necessarily; different types of sushi require different Japanese knives, such as a deba bocho for cutting through tougher fish and a yanagiba for making sashimi slices.
Should I purchase a single or double beveled blade?
Double beveled blades are better for those just starting out because they are easier to sharpen, whereas single beveled blades offer more precision cuts but take longer to learn how to use properly.
How should I care for my sushi knife?
You should always hand wash your sushi knife with warm water and mild detergent, then dry immediately afterwards in order to prevent corrosion.
What type of handle works best for a sushi knife?
A wooden handle is traditional, but you can also find handles made from other materials like metal or plastic––whatever fits comfortably in your hand and feels balanced when you are using it.
How often should I sharpen my sushi knife?
The blade should be sharpened regularly––at least once every two weeks––using a whetstone or honing rod that is specifically designed for this purpose.
Are there any safety precautions when using a sushi knife?
Always keep your fingers away from the blade when cutting and never use excessive force; cut at an angle rather than straight down, so the tip stays on top of the item being cut instead of slipping underneath it; and never use the same board for preparing raw food as cooked food items as cross-contamination could occur.
What type of maintenance do I need to do on my sushi knife?
In addition to regular sharpening, you may need to apply oil occasionally in order to prevent rusting or corrosion; make sure not to get any oil onto the blade itself since this can cause stickiness when slicing food items later on down the line.
How important is proper grip tension when using a sushi knife?
Grip tension is very important; too much pressure can lead to inaccurate cuts or dulling of the blade faster due to friction generated between your fingers and the handle material over time; too little pressure can lead likewise result in poor slicing quality due to lack of stability while cutting with the blade resting on whatever food item being sliced up at the moment .
Can I store my sushi knives together with other kitchen knives?
For hygiene reasons, it's best not to store them together since bacteria can spread between blades during storage if done improperly; however if you must, make sure each two are adequately separated by wrapping them separately in cloth before stowing away together so as not to touch each other directly while still protecting them from dust becoming lodged inside their crevices during transport or storage.
Can left handed people use sushi knives?
Yes, left handed people can use sushi knives. In fact, there are many sushi knives specifically designed for left-handed users.
These knives usually feature an additional handle at the butt of the blade that is angled in such a way that it cradles the user's thumb and provides a comfortable grip.
And due to their symmetrical design, they provide great balance and control while slicing and dicing away in the kitchen.
Can you use a Santoku knife for cutting sushi?
Yes, you can use a santoku knife for cutting sushi.
A santoku knife is a Japanese all-purpose kitchen knife that is designed for slicing, dicing, and mincing.
It has a thin blade that is taller than it is wide and features a sheepsfoot-shaped blade.
Because of its thin blade and tall shape, the santoku knife is an excellent choice for cutting sushi.
Its thin blade allows you to make clean cuts without crushing the fish or rice, and its tall shape ensures that the slices are even in thickness.
What Is The Best Sushi Knife For You?
There you have it!
We hope this article has helped you wade through the hundreds of best sushi knives to find the perfect one for your needs.
Any of the options on our list will work for you.
But if you want our top pick, we would have to say the Dalstrong Yanagiba sushi knife.  This brand has become a favorite of both professional and amateur chefs alike, due to their stand-out designs and top-notch quality. With high ratings, positive reviews, and reasonable price, you really can't go wrong with this knife.
Happy Slicing!
---

If you're looking for a knife that is lightweight, durable, and easy to clean, then ceramic knives are the perfect choice for you. Our top seven picks are here to help you choose: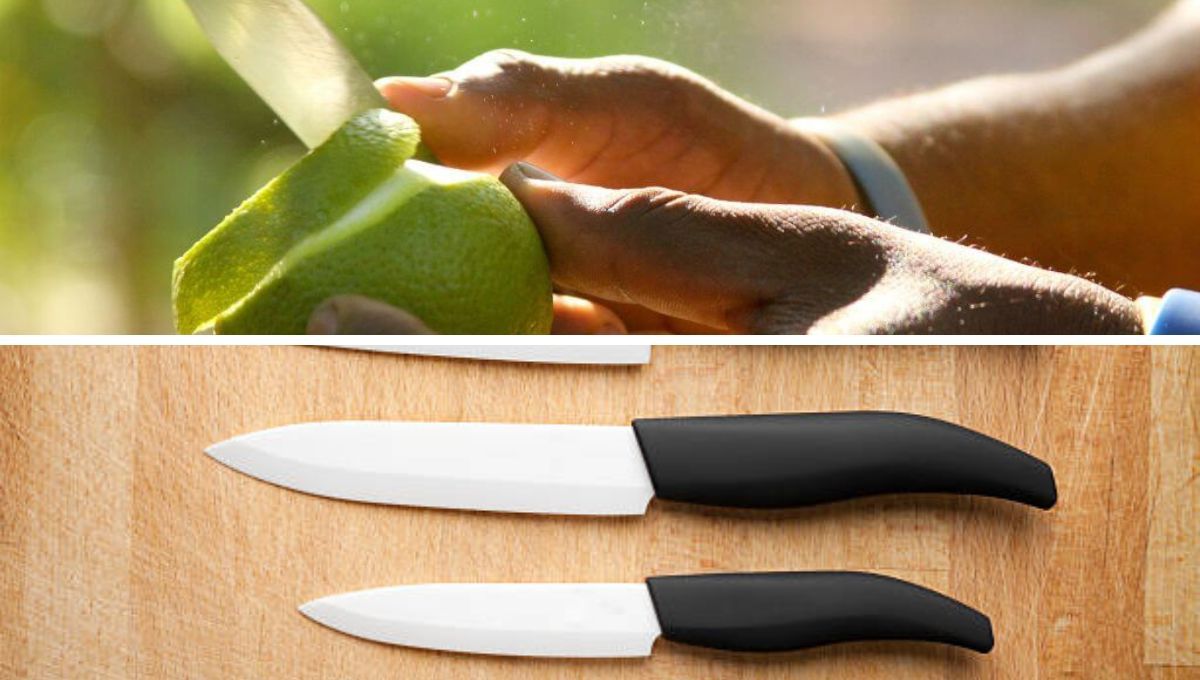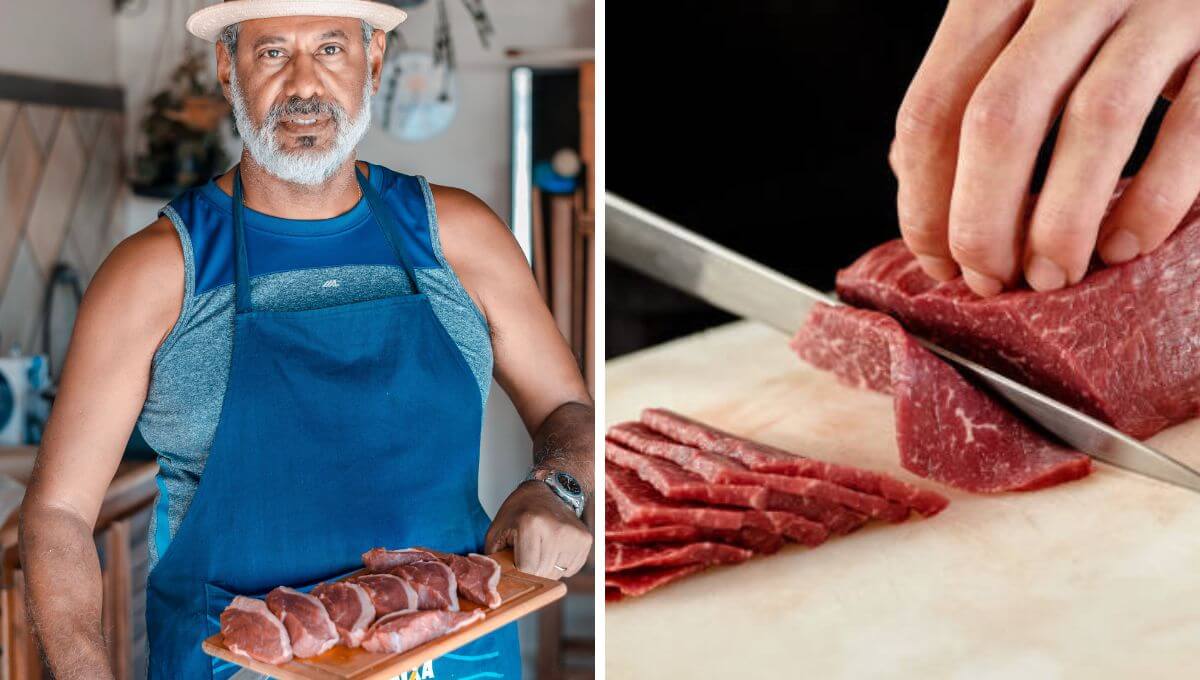 Are you a guy that's looking for a good quality lunch box that's also functional and stylish? Then check out any of the 8 options listed in this article: